[ad_1]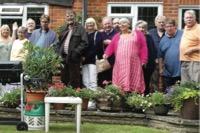 Renewable Mental Illness will provide a session at the Wilmslow library on Monday 26th November between 5pm and 7pm for people to find out about their volunteer peer support groups.
The national charity supports over 130 local peer support agencies in England run by people with their own knowledge of mental health issues and / or their carers and family members.
The organizations are set up to provide sympathy, acceptance and confidence and to be a place where people can share knowledge, get guidance from peers in similar situations and increase their self-confidence.
Ritink Mental Illness offers a range of support for people wishing to establish their own peer support organizations, they will be able to access staff support, training, and help with promotional and fundraising events. Also, organizations have helped them get involved in national initiatives and run their own locally if they want.
There are a number of co-operative peer groups already in place where people come together through informal groups for support and friendship.
Polly's Mental Illness Group Member said: "It's good to be part of a group of people who understand what's like a relationship with mental health problems. They help me and think about it What I'm going through It's weird. Would not you like that kind of support? "
Everyone is welcome to go for coffee and conversation. Or you can contact us by email or telephone 01823 365327.
[ad_2]
Source link