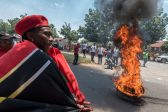 Durban University of Technology (DUT) student who was 20 years old was killed dead, apparently when attacked by private security protection, was on a road near an administrative building at the camp Steve Biko Tuesday.
The EFF student association in KwaZulu-Natal said the student was one of their members.
South Africa Police Service (SAPS) spokeswoman for KwaZulu-Natal Colonel Thembeka Mbele confirmed the event.
"[About 30] students gathered rocks and rocks and went to their home [DUT] stopped on the Ritson Road and tried to steal the building while it was a while; throwing cliffs and bikes. One administrative supporter and one security defender was injured during the event, and security instructions to ask him back, "she said.
Four students were arrested for public violence, Mbele said.
The African News Agency (ANA) recognizes that the female administration was broken off during the violence and the hospital. Security protection has also been in hospital.
The student was shot in the abdomen, Mbele said, although he was not yet clear who killed him.
Police were still on Tuesday.
DUT's senior director for corporate affairs, Alan Khan, said in the statement that the student died while he was in a position; get medical attention at Home Hospital.
"The student's identity can not be distributed at this stage," said Khan.
The cause of death and incident information was still subject to police inquiries, he said.
"DUT offers a deeper comfort to the family and friends of the deceased. We recommend that the family and university have the opportunity to be disturbed past the student, "said Khan.
"As a result of this difficult event and many other violent changes, the university's regulation has closed the university's decision to give notice."
Hunting continues to disturb a number of third-level education centers in the Durban area on Monday, although DUT was relatively quiet compared to other locations.
Concern was expressed during a number of habitats "total closure" at a variety of habitats, quarried at the KwaZulu-Natal & Westville University and Howard College universities. A wardrobe was also established at the Westville area.
Students had a negative funding complaint with the National Student Finance Support Scheme (NSFAS) and delayed registration processes.
DUT arrested lessons on Tuesdays and Wednesdays, although the area itself was open.
In a statement published on Tuesday, a council council member (MEC) asked for economic development, currently, Sihle Zikalala, for "biggest barrier" and said he was willing to meet "stakeholders" of the institutions.
Zikalala also stated that he was a "warped logic" for students to think they needed to go to; Destroy existing educational infrastructure to affect them.
"Ship shooting and pastry buildings leave a bitter taste and everyone KwaZulu-Natal should be convicted. We want to say that we understand and & # 39: a feeling of compassion to the problem of poor students that enable them to meet the costs of raising educational, "he said.
"We thank both student leadership and leadership in a number of third-level centers who are willing to be involved in communication to turn their situation," said Zikalala.
He is aware that a student, a member of the EFFSC is killed by private security at DUT. @EFFSouthAfrica @ Julius_S_Malema

– EFF KZN (@ EFFKZN) 5 February, 2019
For more your news news, download Citizens app app iOS and Android.