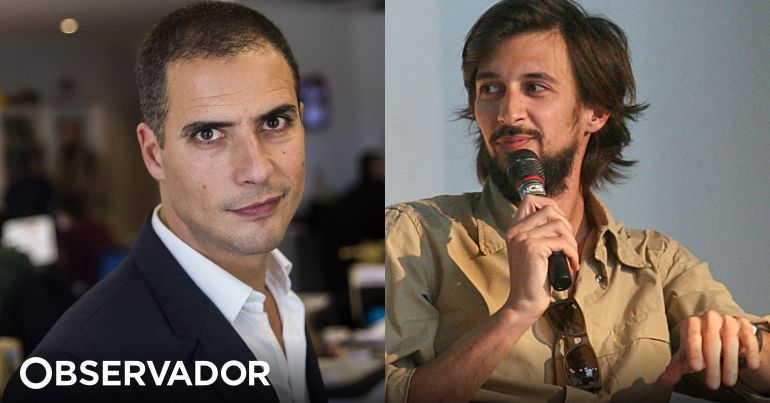 [ad_1]
Ricardo Araújo Pereira and Bruno Nogueira answered Tuesday with the controversial debate factual presentations he was sent out on a Saturday night. The two comedy used their programs on national radio stations – "Mixão das Theáticas" on Commercial Radio and "Tube of Rehearsal" on TSF – to satirize TVI and "Who wants to marry my son?" "Who wants to marry the farmer?" From SIC. It should be noted that both programs have woken complaints that are going to the Regulation of Social Communication (ERC).
Ricardo Araújo Pereira did not see the programs on Sundays yesterday.
Anyone who wishes to see this, I do not recommend it, you must take the following steps: seeing with a friend, the TV order at the friend is and we can see until we accept and Then I turn it off, put it off, I'm not going to take it any more, hang it away! . (…) It is also useful to see them through a perfect glass as it looks like sunlight stupidity and indignity. It is very clear, clear. I had to see it quickly … I should be more professional, I should have seen it from start to finish, but I can't stand it, "he added.
Ricardo Araújo Pereira was christened on TVI program "Who wants to be my son's maiden?" And SIC "Who wants to come to free work?". In the first form, he said that this was largely introducing "job interviews", which were resolved between "girls and mother," the fool was unnecessary. who want to get rid of a monkey at home, "he said.
"It was astonishing that I first viewed the new SIC and TVI exhibitions. To be honest with the SIC, Who wants to marry the farmer ?, I didn't put too many and I even think there's a teaching side. It should be supported by the PAN. Arrangeing a daughter for a farmer can be positive, as he prevents one of the hens and small animals from suffering from the farmer's skin of their ownness, "that comedian has begun Bruno Nogueira.
"Now the TV exhibition begins with a name: the name should bully for the rest of their lives for these kids. This is worse than their mothers bring up to 16 t to the secondary school door, "he continued, describing the form broadcast on Sunday night on TVI. However, the comedy went out further and left a social judgment: t
It is not worth mentioning that we have a program, sitting with his mother beside each other and women going through a doorway, like cattle, and 48 questioning by boy's mummy and mother t Ask questions like "Can you cook?" My son likes to eat a lot. "
"I see no explanation for this. Women were treating like cattle, as if the woman was married to make the man's mother. Guys who is keen to entice a woman and to manage her t future mother-in-law, "concluded Bruno Nogueira.
function configGoogleLogin() { gapi.load('auth2', function () { auth2 = gapi.auth2.init({ client_id: '439313482366-dvdj8tsff9tpi5csb410roen1r9g3m5q.apps.googleusercontent.com', cookiepolicy: 'single_host_origin', });
var googleSignInButtons = Array.prototype.slice.call(document.getElementsByClassName("google-signin")); googleSignInButtons.forEach(function (el) { attachSignin(el); }) }); };
configGoogleLogin(); var reautorize = false; function loginFacebook(){ settings = {scope: ["public_profile","email","user_friends"],return_scopes: true}; if(reautorize){ settings["auth_type"] = 'rerequest'; } if(!document.getElementById("fbsdk")){ //If not loaded, load now, and return now var fbsdk = document.createElement("script") fbsdk.id ="fbsdk" fbsdk.src="https://connect.facebook.net/pt_PT/sdk.js#xfbml=1&version=v3.2&appId=1388666054753245&autoLogAppEvents=1" fbsdk.setAttribute("onload","loginFacebook()") document.body.insertAdjacentElement("beforeend",fbsdk) return; } //if the function did not returned early, it means the script is already loaded FB.login(function (response) { if (response.authResponse) {
var res = response.authResponse; var s = res.grantedScopes.split(","); if(s.indexOf("email") < 0 || s.indexOf("public_profile") < 0 ) { reautorize = true; $("form").find(".error-text.general-error").html('Para prosseguir é obrigatório partilhar o seu endereço de email. Volte a tentar'); } else { // Get and display the user profile data*/ onFacebookLogin(response.authResponse.accessToken); } }else { console.log('User cancelled login or did not fully authorize.'); } }, settings); } function attachSignin(element) { auth2.attachClickHandler(element, {}, function (googleUser) { onGoogleSignIn(googleUser) }, function (error) { console.error(JSON.stringify(error)); }); } [ad_2]
Source link