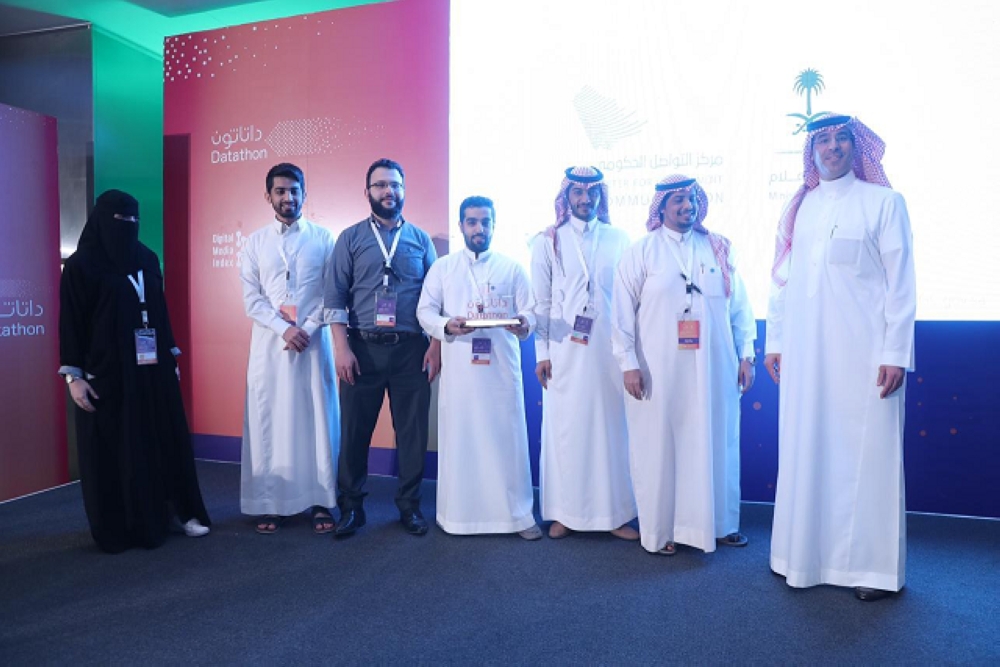 [ad_1]
The Information Minister, Dr. Awad bin Saleh Al-Awad, has his ministry launched a number of new media initiatives to support talented young people in the media.
This came in a yesterday's talk at an event that respected the "Datathon Media" winners, organized by the Government Communications Center at the Ministry of Information in partnership with its " Saudi Data System and Digital Media Record. The event was held two days at Crowne Plaza Riyadh, Officers, newspaper editors and a group of media professionals.
"Media efficiency is the first step in launching a series of activities aimed at supporting, empowering and supporting the talents and talents in the media, "said Al-Awwad.
He said that the event, with over 100 talented young men and women participating in a modern technology range, aims to build a media monitoring panel and keep pace with the development of technologies to Future in the context of analyzing and analyzing media data. , Editorial edit, design, photography, montage, and translation.
The Information Minister said that the Ministry had allowed participants in the "Datathon Media" event to expand their knowledge network with experts in their area, to gain benefits from open media media sources of sources, and the opportunity to be named for data analysis activities in government agencies.
Al-Awad said that his ministry is aiming through this series to identify and identify media talents; give them all their means of support.
Honor:
At the end of the service, the Information Minister gave respect to winners of "Media Dataton" as follows:
First team prize; in the value of 50 thousand settlements … These are:
Mu & # 39; taz al-Salami, Nasser al-Hassan, Lamy al-Nasian, Abdullah Ismail, Ali al-Mughira, Bandar al-Balawi
The second prize of a team worth 30 miles settlement. They are:
Ali al-Arini, Mohammed al-Askar, and Nawaf al-Hamid
The third prize of twenty teams worth 20,000 … They are:
Suleiman Al-Areeni, Mohammed Al-Rafidi, Abdulkarim Al-Thuwaini, Talal Al-Otaibi
The participants were also honored to contribute to the success of the event, the jury involved, and the distribution of qualifications to all the partners.
Dr. Osama Al Jumaili, Dr. Hamoud Al Dosari, Dr. Nahed Bashtah, Walid Al-Sulaiman and Fahd Al-Saawi were present at the event, and discussed how they should benefit from data analysis in the media field. Data display to decision makers, opportunities created by media data for the private sector, as well as the most important challenges facing the media sector in the use of data, and the impact of youth activity especially for improving the work system.
[ad_2]
Source link