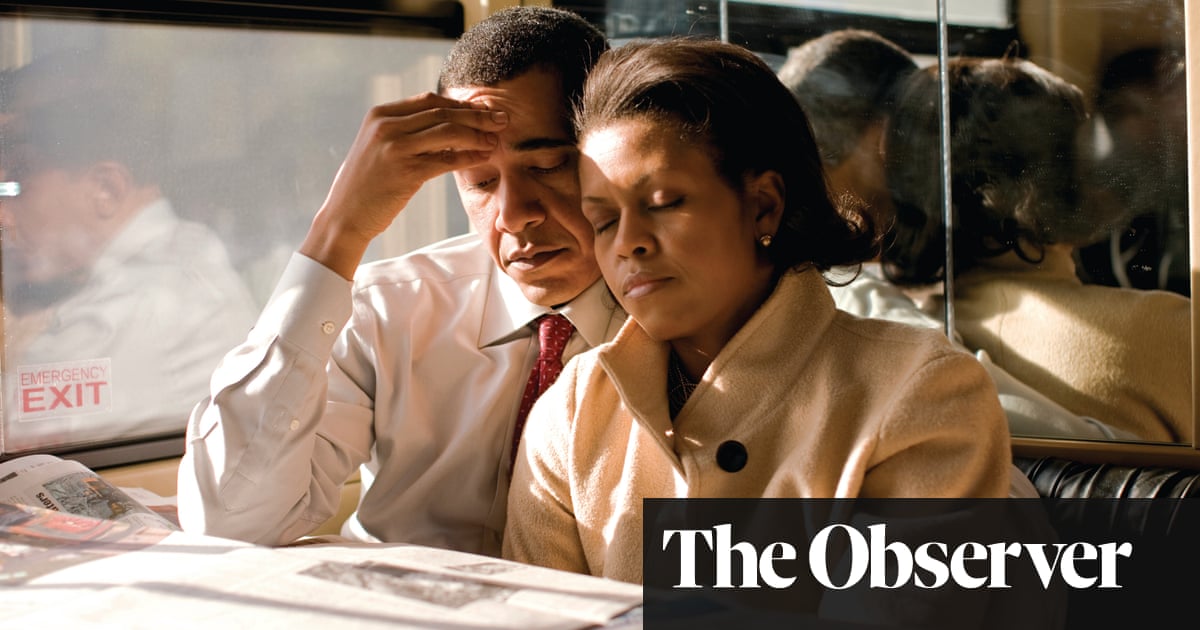 [ad_1]
Wold Michelle Obama, aged four, began her piano lessons with a great aunt on the proletarian South Side of Chicago, the first instruction barked at her by her crabby relative was "Find middle C". That key, its ivory chipped so that it looked like a carious tooth, was her anchorage, the frontier between right and left hands or between treble and bass clefs.
She learned this preliminary lesson well, as her memoir testifies: Becoming Serenely balances gravity and grace, uplift and anecdote, though its high-mindedness does permit a few low blows at Barack Obama's villainous successor. A single sentence catches the blend of conscientious bass and giggly treble that makes Michelle simultaneously admirable and adorable. Recalling her teenage friendship with Jesse Jackson's daughter, she says that "Santita and I were all for strengthening the character of black youth across America, but we also needed rather desperately to get to the shopping mall before the K-Swiss sneaker sale ended."
The same complementarity underlies her alliance with her husband. As she tells it, they are opposing forces, like yin and yang. Michelle's gregariousness rubs up against Barack's need for pensive solitude. She is a far-sighted planner, whereas he prefers "an improvisational zigzag through disparate worlds". She constructs an identity as if tucking and folding a piece of origami; he is an improbable American original, a hybrid of Kenya, Hawaii and Kansas with an Arabic middle name, a one-man melting pot whose mixed ingredients make him eternally ambivalent. Among moneyed Wasps at Princeton, Michelle feels a misfit, "poppy seeds in a bowl of rice". Barack suffers no such anxiety: since he is unique, what group or class could he possibly belong to?
Their relationship develops as a disputatious comedy of manners. At their Chicago law firm, Michelle initially appraises him an "exotic geek", then more politely reclassifies him as a unicorn. On their first date, he wears a white linen blazer that resembles a cast-off from Miami Vice. "Oh well," she reflects. He also smokes, which disgusts her. All is forgiven, thanks to his "noble heart" and his encyclopaedic head.
During their courtship, Barack writes deeply pondered letters while Michelle insists on spontaneous phone calls. Once they are married, his political commitments turn him into a "human blur, a pixelated version of the guy I knew". A message saying "On my way" or "Almost home", she learns, is "not a geo-locator" but a statement of intent; he even leaves her to get pregnant on her own as she angrily stabs syringes into her thigh during a course of in-vitro fertilization. In the White House, where she makes clothing choices a month in advance and submits to endless primping by stylists, he maintains his "loose-jointed Hawaiian casualness" and is ready for work as soon as he pulls "the same dark suit out of his closet ". He does not, she adds, even need to comb his hair.
Treble and bass clash again and are gently reconciled when Michelle describes the way power institutionalised the two of them as Potus and Flotus or, to use their Secret Service code names, Renegade and Renaissance. She complains about "the new heaviness" that the presidency brought with it, symbolized by a limo that is "a seven-ton tank disguised as a luxury vehicle, tricked out with hidden tear-gas cannons, rupture-proof tires, and a sealed ventilation system "able to withstand a biological or chemical assault. The antidote to this onerous symbolism is her irrepressible lightness of being: her dance moves, her rapping with Jay Pharoah, her karaoke session with James Corden, and the happy informality that made her ignore protocol and stoop from her great height to give the Queen a consoling hug when they first met.
While Barack had to cope with the burden of that 40lb "nuclear football" lugged around by a military aide, Michelle astutely exercised what she calls "soft power". Hillary Clinton antagonized housewives everywhere by refusing to stay at home and bake cookies; as First Lady, Michelle devoted herself to planting a vegetable garden in the White House grounds – an enterprise that looked harmlessly domestic, although this "miniature Eden" also provided her with an excuse for lecturing obese America about healthy eating.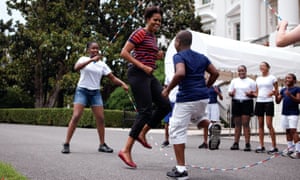 Michelle treasures her young daughters because they are so indifferent to their father's vertical ascent. "Is he president yet?" They asked during the long campaign in 2008, like restive kids in the back seat wanting to know whether they're there yet. She is even more amused by one of their presidential pets, a dog that refused to be house-trained: why bother, since the executive mansion contained 132 rooms?
Becoming is frequently funny, sometimes indignant or enraged, and when Michelle describes her father's early death from multiple sclerosis it turns rawly emotional. My favorite scene is a recent one, with Michelle in her new Washington home, alone one evening except for the armed guards in the garage. Feeling peckish, she pads downstairs, barefoot and in her shorts, toasts bread, grills cheese in the microwave, then takes the "fat mess of gooey cheddar" outside to eat – none of which she would have been allowed to do in the White House , at least not without supervision or fussy assistance. On the veranda, she chomps contentedly, "not thinking about the new president, or for the matter the old president either". The character of black youth and the fate of American democracy can wait. Sometimes you just desperately need a calorific midnight snack.
• Becoming by Michelle Obama is published by Viking (£ 25). To order a copy for £ 15 go to guardianbookshop.com or call 0330 333 6846. Free UK p & p over £ 10, online orders only. Phone orders min p & p of £ 1.99
[ad_2]
Source link