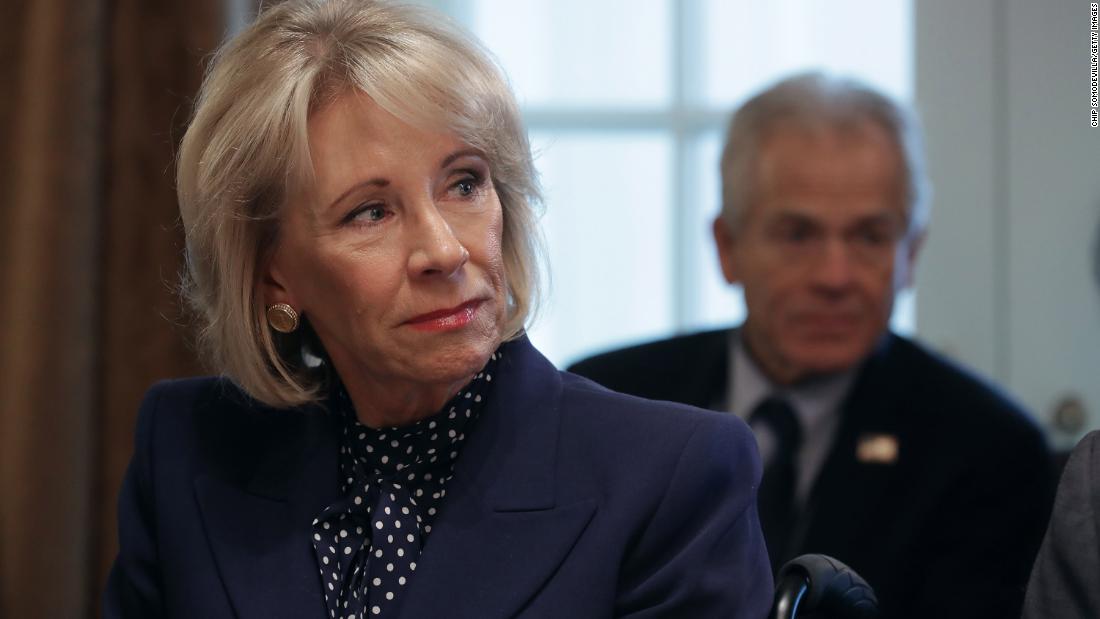 [ad_1]
Taken up – this time – for the secretary of an education badge cuttings have been suggested in her department's budget that would affect the Special Olympics – especially programs run in schools t . These cuts are not new. Indeed, DeVos has cut back on Special Olympics within her budgets for each year she has been in post. These cuts are part of a 12% wider reduction in the education budget proposed – an extract from the Trump's administrative efforts to cut the federal budget on a non-defense basis. In the past year, DeVos's planned cuts were rejected. And that was when the Public was governing the House and the Senate!
At Tuesday's hearing, DeVos defended the cuts proposed: "I believe the Special Olympics are a very good organization, one supported by the humanitarian sector as well." What, if you read between the lines, is: The Special Olympics have a funding problem and, therefore, the federal government does not have to spend money. Any money we make is immediately covered with a private donation.
This point is not wrong. People nearly made the difference if the federal government withdrew. However, there are no administrative budgets for the different government departments as large as cold, hard numbers and more about what they think their priorities are and how they would like to do it well.
That is why it is advisable to politically cut cuts to the Special OIympics for anyone – less of an education secretary – to be involved.
The Special Olympics are something that, literally, is all thinking as one of the good things we do as a nation. It gives everyone a chance to be in the competition. He is trying to prove his life. It's the sort of thing that most people agree that we should spend more money, not less money.
And the truth is that we don't even spend much federal money on Special Olympics. Last year, Congress contributed over $ 17.6 million to Special Olympics programs. Almost as you think the Education budget for 2018 was over $ 68 BILLION.
What causes this hill to die as a political crime by DeVos. And I'm not even sure what I call his attempt – after her tight scene with Capitol Hill – to, uh, explain her position.
Titles "DeVos Secretary 'sets out Trump Administration Student Support Record with Disabilities," the statement released on Wednesday is read, in part:
"It is unacceptable, embarrassing and forbidden that the media and some members of the Congress dismissed bad news and reported fully to the facts of the … t
"… the Special Olympics is not a federal program. It is a private organization, whose work it likes, and I have provided personal support to mission, many of which are support students and adults with disabilities who were not profitable from federal grant money. " t
Sooooooo … the media and Democrats in Congress have made "bad gifts" about whether DeVos cut off the Special Olympics. However, she suggested cuts to the Special Olympics because "the federal government cannot afford money for all programs, in particular those with private donations from private donations."
That got?
The media told the story correctly. DeVos, as she has done for every year, suggested cut funding for Special Olympics programs in schools out of her department's budget. The Democrats – and many of the people – raised enthusiasm. DeVos, with support from the media for his own praise, has succeeded in uh reciting that recommendation.
But wait! It's getting worse for DeVos! On Thursday evening, President Donald Trump decided about the cuts she was planning on the Special Olympics in re-broadcast by reporters. "The Special Olympics will be funded, I just said to my people," said Trump.
"I've been affecting my people. We are funding the Special Olympics, "he said.
DeVos spent the week defending compulsory cuts to a program that everyone likes. Deaths with limited ability to be exercised by House under Democratic control. And then, when things had gone out, the boss of DeVos – as President of the United States – looked at a chain-chain and cut off his finger that she had made.
What a catastrophe?
[ad_2]
Source link