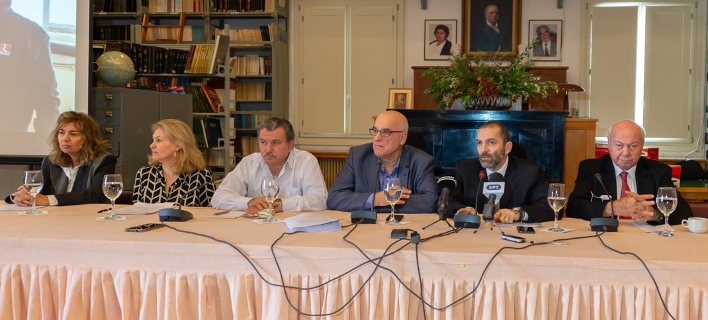 The Corporate Social Responsibility Program for the Ionian Islands Department was announced today, Thursday, November 22, at a news conference held at the Korgialenio de Argostoli Library.
The CSR program has been implemented by HELLENIC PETROLEUM in the past ten years including several actions for community benefit, new generation columns, vulnerable groups, the environment and culture – sports.
The performance of the activities in the wider area of ​​Ion Ion was carried out by General Manager ELPE Group Trading & CEO Mr Roberto Karahanna, Director of Corporate Relations Mr Yannis Coronaios, Corporate Governor Director Mrs Rania Soulaki, Director of F & D Fuel & Lubricants, Maria Moschopoulou, and Marketing Director Mr Sotiris Anastasiadis.
The event was attended by Ionian Governor Mr Theodoros Galiatsatos, Deputy Governor Kefalonia Mr Panagis Drakoulougonas, Cephalonia Maoir, Mr Alexandros Parissis and Mr Ithaca Mr Mr Dionysios Stanitsas.
As stated, for the period 2018-2019 the HELLENIC PETROLEUM Group will implement the following actions:
1. Laboratories of Natural Sciences:
Eight (8) sports in the area are donated by a device for Physical Sciences Labs. The project is awarded to the Bodossaki Foundation. The schools have been selected according to the needs of the community to learn to use the largest and most useful materials; worries the bands:
1st JYMN. ARGOSTOLIOU
2nd YYMN. ARGOSTOLIOU
3rd YYMN. ARGOSTOLIOU
BALLIAN JUNIOR JUNIOR
HIGH HIGH SCHOOL OF MESOVOUNIANS
HIGH HIGH SCHOOL OF PASTRAS
HIGH SCHOOL REVIEWS SAMI JUNIOR
HIGH SCHOOL OF SCOTLAND'S ANNUAL REVIEW
More than 23 laboratories are already equipped, in secondary schools in Athens and Thessaloniki.
2. Heat oil in schools and centers:
a.) Oil heat requirement cover – A total of 9,000 liters – at Corfu Gym, which provides sporting events for each island organization every year.
b.) Excavation oil in nine (9) schools in Kefalonia and Ithaca. In total, there were 18,800 liters of heating in the following school units:
1. Gymnasium Vallianio de Keramies, Keramies.
2. Sami High School, Sami.
3. Gymnasium Pastra, Pastra.
4. Gymnasium – Lyceum de Mesovounion classes, Mesovounia Erisos.
5. Gymnasium Petrizio de Lixouri, Lixouri.
6. Gymnasium of Ithaca, Vathi.
7. Special School (FEEE – Special Training and Training Workshop) of Fakrlaton, Faraklata.
8. Single special vocational secondary school – Lyceum (EUEGL) of Kefalonia.
9. EPAL from Lixouri.
3. Equipment of two Health Centers:
Provision of medical equipment at the two Health Centers in Sami Kefalonia and Ithaca, cooperating with "FOUNDATION OF THE FOOTBALL GRAMMIS".
4. Photovoltaic system in school:
Installing a Photovoltaic System at the School. The project will be awarded by Hellenic Renewable Energies SA It is analyzing its & # 39; The ability to choose the School Scholarship in Pharaoh's position (Argostoli), as it is two Lyceums and is a new school building in Ionian Islands.
5. Support from the Philodmonia Kapodistrias Corfu:
Supporting ELPE regarding the presence of Philharmonic Kapodistrias at the Athens Concert Hall.
6. Implementation of the "LIFE ENERGY TRAVEL" program:
In Kefalonia schools, "The ENERGY FOR LIFE TRAVELS", which is a HELLENIC PETROLEUM partnership with AMKE's "AGONI GRAMMI FONIMI", will launch Corfu and Zakynthos. It is an environmental education program that has a " including 14 non-governmental organizations, organizations, universities, under the Ministry of Education, Investigation and Religious Affairs and UNCR, which includes:
I) The 17 World Objectives for Sustainable Development:
Sustainable Development Program Sustainable Development Program and its 2030 objectives.
II.) Workshops and educational partnerships:
Education workshops are implemented in schools in Ionian with co-operation:
WORK GEORGIAN WORK
THE MUSEUM OF THE PHYSICAL HISTORY PROPERTY, CREATIVE HISTORY
INSTITUTE EDUCATIONAL TECHNOLOGICAL OF PELOPONNESE
HCMR
SEAK, GREEK OCEANOGRAPH ASSOCIATION
CITES RESEARCH, RESEARCH AND CITES INCOME
ARCHURES
I STILL
MOBILE PLANETER
LEABHAN ANN AN RHODES
AEGEAN REBREATH
I-sea
SGEUL
ARCHIPELAGOS
III.) A school competition on Sustainable Development and an educational visit abroad.
At present, nearly 3500 students from 29 schools have participated in Ionian Games in previous years, and 70 workshops have been implemented, as shown in the following table:
"HELLENIC PETROLEUM is the largest energy organization in Europe, but at the same time it is an integral part of the society in which it works. All of us, we are feeling said the clear duty and the need to return to this society are part of our profit, "said CEO of Marketing & CEO Roberto Karahanas, saying:
"One of the biggest contributions of the EKO heating oil supply group is for schools, centers and organizations throughout the country. Throughout this work, over the last 10 years, over Three million liters of oil are spread, especially in remote areas of Greece. We are very pleased today that we are in Kefalonia to inform the EPO heat oil solar program to continue. 39; including 9 school centers and each delivery will be made using "EKO CONTROL SYSTEM", a behavioral meter that is only EKO to ensure that Schools receive each liter. "
As announced at the Media Conference, in Kefalonia, the mobile fuel control unit at EKO, who is currently carrying out inspections at the petrol stations to prove that the coins are in collaboration le Laboratory de Fuel and Lubricant Technology at the National Technical University of Athens The final customers are delivering the upper stages and are designed by EKO, that is, they are & # 39; to ensure a fuel economy and reduce discharged emissions, thus to contributes to limiting the Climate Change philosophy.
On his part, ELKA's Chief Executive, Ms. Rania Soulaki, said: "Focusing on the new generation and quality education, we have implemented an extensive CSR program in recent years. Our activities are with our local societies and has expanded slowly across Greece, even in the most remote areas. Our aim is to provide equal opportunities for students to experience Supporting programs that include innovative educational practices, and delivery of the essential educational tool and, at the same time, the delivery of key infrastructure projects , such as photovoltaic roofs in school buildings. "