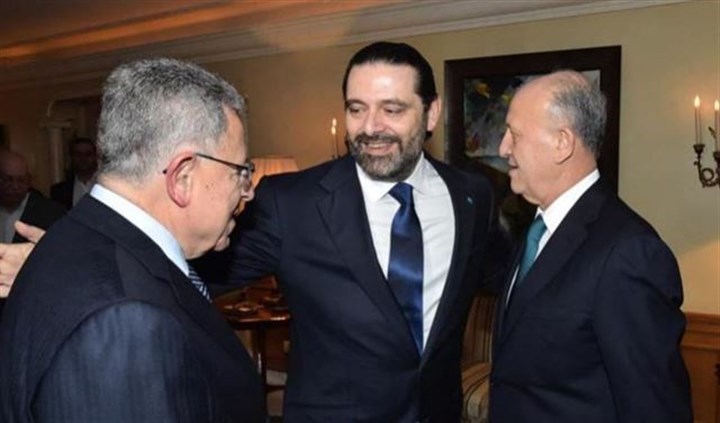 [ad_1]
Prime Minister Saad Hariri said that, following the meeting held in the circle of President Fouad Siniora, a new page was opened today by the former Ashraf Rifi minister, and we have to close the rates To remove Tripoli from poverty, "and said:" All the parties must have a dialogue, I'm sure Major General Rifi has an interest in the development of Tripoli, and we need to work together for the first time. T the benefits of the city.
On the other hand, Siniora said: "Major General Rifi will not run in the Tripoli by-elections, and the candidate will support Dima Jamali."
"We are proud of the small things because the country is in danger and its priority is to face the challenges and I tell the Trabelsi street to use it," said Rifi.
alreadyLoaded_facebookConnect = false;
$(window).load(function () {
//$(window).bind('mousemove' , function(){ // $(window).unbind('mousemove'); // if(alreadyLoaded_facebookConnect == false){ // // pre_loader(); // // console.log("test"); // } //});
if ($(window).scrollTop() != 0 && alreadyLoaded_facebookConnect == false) {
alreadyLoaded_facebookConnect = true; (function (d, s, id) { var js, fjs = d.getElementsByTagName(s)[0]; if (d.getElementById(id)) return; js = d.createElement(s); js.id = id; js.async = true; js._https = true; js.src = "http://connect.facebook.net/en_US/all.js#xfbml=1&appId=148379388602322"; fjs.parentNode.insertBefore(js, fjs); }(document, 'script', 'facebook-jssdk')); // pre_loader(); // $(window).unbind('mousemove'); // console.log(" loaded"); //setTimeout(function(){ // $('#boxTwitter').html("Tweets by @tayyar_org");
//}, 3000);
}
});
//$(window).bind(&#39=scroll;);
$ (window) .scroll (action)
if so (alreadyLoaded_facebookConnect == false) {
alreadyLoaded_facebookConnect = true;
// $ (window) .unbind ('scroll');
// console.log ("scroll loaded");
(act (d, s, id) {
var js, fjs = d.getElementsByTagName (s)[0];
are returning (d.getElementById (id));
js = d.createElement (s); js.id = id;
js.async = true;
js._https = true;
js.src = "http://connect.facebook.net/en_US/all.js#xfbml=1&appId=148379388602322";
fjs.parentNode.insertBefore (js, fjs);
} (document, 'script', 'facebook-jssdk'));
// pre_loader ();
// $ (window) .unbind ('mousemove');
// setTimeout (activity () {
// $ ('boxTwitter') .html ("Tweets with @tayyar_org");
//}, 3000);
var scriptTag = document.createElement ("script");
scriptTag.type = "text / javascript"
scriptTag.src = "http://www.tayyar.org/scripts/social.js";
scriptTag.async = true;
document.getElementsByTagName ("head")[0].appendChild (scriptTag);
(action)
$ .getScript ("http://www.tayyar.org/scripts/social.js", function () {});
});
}
});
//$(window).load (function)
// setTimeout (activity () {
// // put content back into a new script tag
// var se = document.createElement ('script');
// se.type = "text / javascript";
// //se.async = true;
// se.text = "setTimeout (action () {pre_loader ();}, 5000);";
// document.getElementsByTagName ('body')[0].appendChild (se);
//}, 5000);
//});
[ad_2]
Source link