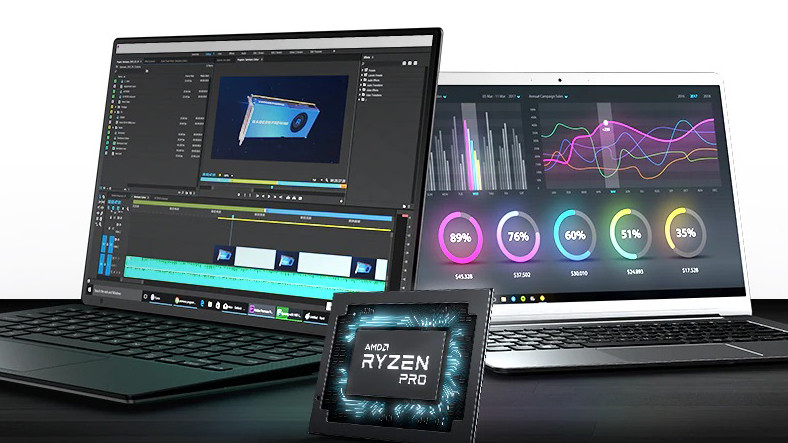 AMD who works at Intel aims to take forward Intel with its new processes.
AMD, who is trying to keep up with Intel from their processes, announced their new mobile processors. With the next generation of processors to be used in the highest notebooks, Intel undertakes to report 25 per cent of production and a 50% increase in battery usage.
AMD Ryzen PRO's notebooks can be used for 12 hours for business and 10 hours. Having reported well, some more interesting information is shared with AMD. These data are as follows;
Compared to the model modal i5-8350U Intel, it can be seen that the new AMD processors are powerful enough.
To start using these processes we need to wait a little longer. It is hoped that the AMD Ryzen PRO process will be this year longer for Hp and Lenovo.
Kaynak : https://www.pocket-lint.com/laptops/news/147704-amd-announces-new-high-performance-mobile-ryzen-pro
$ (Duty)
// facebook window.fbAsyncInit = activity () { fb.init ({ appId: '1037724072951294 & # 39; xfbml: true, converting: v2.5 & # 39; }); };
(act (d, s, id) { var js, fjs = d.getElementsByTagName (s)[0]; so if (d.getElementById (id)) {return;} js = d.createElement (s); js.id = id; js.src = "http://connect.facebook.net/en_US/sdk.js"; fjs.parentNode.insertBefore (js, fjs); } (document, 'script', 'facebook-jssdk'));
$ ('Body'). Ten ({ click: action () { // facebook save the ajax button Ma fb.xfbml.p (); } }; '.Bookbook-save';
// scroll section so ($ (& ';' content-sticky & ';)> distance> 0) { if ($ (window) .width) (>)> 768) { $ (window) .on (scroll), activity () { scrollTop = $ (this) .scrollTop (); $ ('Article') each (action () { if so (scrollTop> = ($ (this) .find ('. content-body'). $ (Yes) .find (.'s content is sticky); AddClass ('Sticky'); (($ (this) .find ('. content-body'.) make-up.) top + $ (this) .find ('. content-body'). ) - ($ (this .find ('.' content-sticky '). height () + 92)) { $ (Yes) .find (.'s content is sticky); RemoveClass ('Sticky'); $ (this). find ('. content-sticky'). '' css '' '' 'level' '' ',' top ''; ; } other { $ (Yes) .find (.'s content is sticky); AddClass ('Sticky'). Css ({ 'Base': 'Start &'; 'Top': '76px'; }); } } other { $ (this) .find ('. content-sticky'). removeClass ('Sticky'). '' css '' '(' 'auto', 'top' ''; } }); }); } }
// share click $ ('Body'). Ten ({ click: action () { var $ this = $ (this), dataShareType = $ this.attr (& nbsp; '), dataType = $ this.attr (data type & 39), dataId = $ this.attr ('data-id'), dataPostUrl = $ this.attr ('data-mail-url'), dataTitle = $ this.attr (data title & '39'), dataSef = $ this.attr ('data-');
exchange (dataShareType) { "facebook" issue: fb.u de ({ method: 'shared', href: dataSef, }, action (response) { if yes (answer & math answer.) updatehit (); } });
breaking;
'twitter & # 39'; shareWindow (https: //twitter.com/intent/tweet. )); updatehit (); breaking;
gplus & # 39; shareWindow (https: //plus.google.com/share = encodeURIComponent (dataSef)); updatehit (); breaking;
mail & mail: window.location.href =? mailto:? subject = & # 39; + encodeURIComponent (dataTitle) & body = & # 39; + encodeURIComponent (dataSef); // updatehit (); breaking;
'whatsapp' case: window.location.href = whatsapp: // send? text = & # 39; + encodeURIComponent (dataTitle) + # 39;% E2% 96% B6 & # 39; + encodeURIComponent (dataSef); updatehit (); breaking; }
share shareWindow {url} { window.open (url, "_blank", "toolbar = yes, scrollbars = yes, resizable = yes, top = 500, left = 500, width = 400, height = 400"); }
update Renewal () { $ .Ajax ({ type: "POST" url: dataPostUrl, Data: {contentId: dataId, contentType: dataType, shareType: dataShareType}, t success: activity (data) {
if ($? 'video-display') length> 0) { var $ container = $ ('video-display'); Otherwise if the article is included[data-id="' + dataId + '"].)> .Gte> 0) { var $ container = alt (& # 39;[data-id="' + dataId + '"]'; So if anyone else is ($ (& 39 ;. wt-share-item))[data-id="' + dataId + '"].)> .Gte> 0) { var $ container = $ ('wt-share-item[data-id="' + dataId + '"]'; } other { $ container = null; }
// var $ container = dataType ==? $ ('Video-show'): $ ('section')[data-id="' + dataId + '"]';
($ container! = null & $ container.length> 0) { $ $ badged = $ container.find ('wt-share-badge' + dataShareType);
looking for $ headerCount = $ ('. content-header')., looking ('wt-share-count'), $ containerCount = $ container.find ('wt-share-count'), value = parseInt ($ containerCount.html ()) + 1;
$ container.data ('share', value); //$containercount.html(valu A);
if ($ headerCount.length> 0) { //$headercount.html(valu A); }
If ($ badged.length> 0 && (dataShareType == facebook dataShareType == 'twitter')) { if ($ badged.hasClass) ( //$badged.html(dat A); } other { //$badged.addclass('is-visible').html(dat A); } } }
} }); } } }, '.Tut-share-button') });
Source link