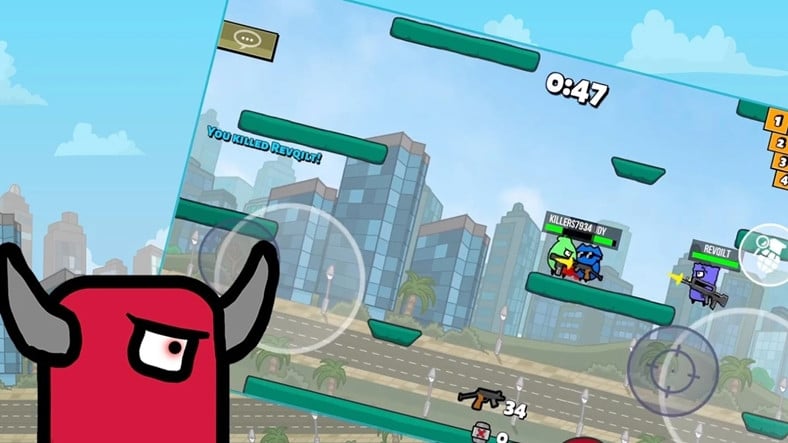 Are you tired of royal battleship royal games? Contributing to the state-class sport with the battle of royal battle, Match Killers: Battle Ground is a & # 39; breathes the world a fun game.
The mobile play world has made significant progress over the last year. In particular, royal war games are one of the most important aspects of mobile player development and mobile players. However, most battleship games cause problems of achievement as a result of adequate fitness for players with no high-tech phones.
Included with ER Games for mobile players, Match Killers: Battle Ground will connect the type of steel with the amazing kingdoms of royal kingdom. Thanks to the multi-player online structure, the game that is not cool to & # 39; royal action battle with bots that allows everyone to play easily with 2D arcade structure.
Match Killers: Battle Ground provides players with the opportunity to apply in different game modes to apply to any player. There is a different and deadly weaponry and you can eliminate your enemies with each other. In a game you can compare yourself and other players. The biggest benefit in Killers Games is: Battle Ground compared to other games, the simple and pure interface is a practical game.
You can watch the start video of Killers Match: Battle Ground, which's a # 39; A royal battle sport fun with 2D arcade entertainment, from the link below. You can also download the game for an iOS and Android device from both the App Store and the Play Store connections that are just under the video.
Tournament Game: Battle Ground

DOWNLOAD
Tournament Game: Battle Ground

DOWNLOAD
$ (Duty () {
// facebook window.fbAsyncInit = action () { fb.init ({ app: & # 39; 1037724072951294 & # 39 ;, xfbml: real, draft: & # 39; v2.5 & # 39; }); };
(action (d, s, id) { var js, fjs = d.getElementsByTagName (an)[0]; if (d.getElementById (id)) {till;} js = d.createElement (ean); js.id = id; js.src = "http://connect.facebook.net/en_US/sdk.js"; fjs.parentNode.insertBefore (js, fjs); } (document, & script, & # 39; facebook-jssdk & # 39;));
$ (& # 39; Body & # 39;). Ten ({ click: action () { // facebook saves ajax button Ma fb.xfbml.p (); }} }, & # 39; .facebook-save & # 39;);
// a share share ma ($ (& # 39 ;. content-sticky & # 39;) fad> 0) { ma ($ (window) .width ()> = 768) { $ (window) .on (& # 39; scroll & # 39 ;, function () { there is scrollTop = $ (here) .scrollTop (); $ (Article & # 39;). each (action () { if (scrollTop> = ($ (this) .find (& # 39 ;. content-body & # 39;) .com comparation (). top - 76)) { $ (Tha) .find (& # 39 ;. Content is stubborn & # 39;). AddClass (sticky & # 39;); (($ (this) .find (& # 39; content-body & # 39;). synchronize (). top + $ (this) .find (& # 39; content-body & # 39;). height () - ($ (this .find (& # 39; content-sticky & # 39;). alto () + 92))) { $ (Tha) .find (& # 39 ;. Content is stubborn & # 39;). RemoveClass (sticky & # 39;); $ (this) .find (& # 39 ;. content-sticky & # 39;). css (& # 39; & # 39; bottom & # 39;: & # 39; 0px & # 39;, & # 39; top & # 39;: & # 39; auto & # 39;}); } other { $ (Tha) .find (& # 39 ;. Content is stubborn & # 39;). AddClass (sticky & # 39;). Css ({ & Bottom: & # 39; start & # 39 ;, & # 39; top & # 39 ;: & # 39; 76px & # 39; }); }} } other { $ (this) .find (& # 39 ;. content-sticky & # 39;). removeClass (& # 39; sticky & # 39;). css (& # 39; & # 39; bottom & # 39;: & # 39; auto & # 39;, & # 39; top & # 39;: & # 39; 0 & # 39;}); }} }); }); }} }}
// click shared $ (& # 39; Body & # 39;). Ten ({ click: action () { var $ this = $ (this), dataShareType = $ this.attr (& # 39; data-share-type & # 39;), dataType = $ this.attr (& # 39; type-data & # 39;), dataId = $ this.attr (& # 39; id-data & # 39;), dataPostUrl = $ this.attr (& # 39; data-post-url & # 39;), dataTitle = $ this.attr (& # 39; data-title & # 39;), dataSef = $ this.attr (& # 39; data-namely & # 39;);
change (dataShareType) { case & facebook & # 39 ;: fb.u de ({ method: & share, & # 39 ;, href: dataSef, }, action (reply) { ma (reply &&! response.error_message) { updatehit (); }} });
break;
case & # 39; twitter & # 39 ;: shareWindow (& https: //twitter.com/intent/tweet? via = webtekno & text = & # 39; + encodeURIComponent (dataTitle) + & # 39;% E2% 96% B6 & # 39; + encodeURIComponent (dataSef )); updatehit (); break;
case & # 39 ;: shareWindow (& # 39; https: //plus.google.com/share? url = & # 39; + encodeURIComponent (dataSef)); updatehit (); break;
case & post window.location.href = & # 39; mailto:? subject = & # 39; + encodeURIComponent (dataTitle) + & # 39; & body = & # 39; + encodeURIComponent (dataSef); // updatehit (); break;
case & # whatsapp & # 39 ;: window.location.href = & # 39; whatsapp: // add? text = & # 39; + encodeURIComentent (dataTitle) + & # 39;% E2% 96% B6 & # 39; + encodeURIComponent (dataSef); updatehit (); break; }}
shareWindow action (url) { window.open (url, "_blank", "toolbar = yes, scrollbars = yes, resizable = yes, top = 500, left = 500, width = 400, height = 400"); }}
updateHit update () { $ .Ajax ({ type: "POST", url: dataPostUrl, data: {contentId: dataId, contentTop: dataType, shareType: dataShareType}, success: action (data) {
if ($ (& video-show & # 39;) length> 0) { var $ container = $ (& # 39 ;. video-showcase & # 39;); } else if ($ (art[data-id="' + dataId + '"]& # 39;) .length> 0) { var $ container = $ (& # 39; article[data-id="' + dataId + '"]& # 39;); } if there is ($ (& # 39 ;. wt-share-item[data-id="' + dataId + '"]& # 39;) .length> 0) { var $ container = $ (& # 39 ;. wt-share-item[data-id="' + dataId + '"]& # 39;); } other { $ container = null; }}
// var $ container = dataType == & # 39; video & # 39 ;? $ (& Video-show & # 39;): $ (& # 39; art[data-id="' + dataId + '"]& # 39;);
if yes ($ container! = null && $ container.length> 0) { var $ badged = $ container.find (& # 39 ;. wt-share-badge - & # 39; + dataShareType);
find $ headerCount = $ (& # 39 ;. content-header & # 39;). find (& wt-share-count & # 39;), $ containerCount = $ container.find (& # 39 ;. wt-share-count & # 39;), value = parseInt ($ containerCount.html ()) + 1;
$ container.data (& # 39; share & # 39 ;, value); //$containercount.html(valu A);
if yes ($ headerCount.length> 0) { //$headercount.html(valu A); }}
if ($ badged.length> 0 && (dataShareType == & # 39; facebook & # 39; | dataShareType == & # 39; twitter & # 39;)) { if yes ($ badged.hasClass (& # 39; is-visible & # 39;)) { //$badged.html(dat A); } other { //$badged.addclass('is-visible').html(dat A); }} }} }}
}} }); }} }} }, & # 39; .wt-share-button & # 39;) });
Source link