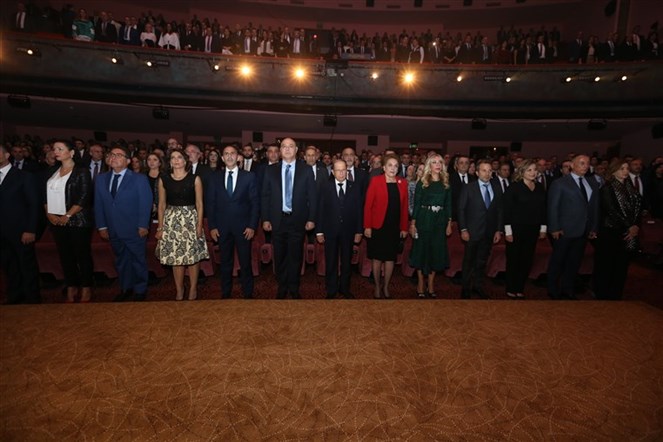 President Awn and her first Lebanon to attending a concert
Convened by the Army Commander for the Jubilee Daemon of Independence
———–
President General General Michel Aoun and First Lady Nadia Al-Shami Aoun a & # 39; waiting for him on Thursday night to invite the army commander to attend a concert organized by the Directorate of Directors on Lebanon Lebanon's casket, at the time of the Scottish Diary Day.
President Aoun and Lebanese President Michel Aoun came to the Lebanese Casino building at 8:30 pm, where they were welcomed by the general of General Joseph Aoun and his wife, chairman of chasino and general manager Roland Khoury.
The Minister for Foreign Affairs and Foreigners Gebran Bassil, Minister of State for the Anti-Corruption Affairs Nicola Tueni, a number of constituents, senior judges, security leaders and general directors, head of the National Commission for Women's Affairs, Claudine Aoun Roquez, and political, economic, social, media and technical figures.
The concert was opened by the Lebanese national hymn, sung by Lebanese army band, with a number of national songs later. After a talk at the concert, Talla made her experience; Various music types of Lebanese songs have a national and cultural character.
At the end of the ceremony, President Aoun congratulated the Lebanese Army and the Music Hall team for the performance and revitalization of Independence,
alreadyLoaded_facebookConnect = false;
$(window).load(function () {
//$(window).bind('mousemove' , function(){ // $(window).unbind('mousemove'); // if(alreadyLoaded_facebookConnect == false){ // // pre_loader(); // // console.log("test"); // } //});
if ($(window).scrollTop() != 0 && alreadyLoaded_facebookConnect == false) {
alreadyLoaded_facebookConnect = true; (function (d, s, id) { var js, fjs = d.getElementsByTagName(s)[0]; if (d.getElementById(id)) return; js = d.createElement(s); js.id = id; js.async = true; js._https = true; js.src = "http://connect.facebook.net/en_US/all.js#xfbml=1&appId=148379388602322"; fjs.parentNode.insertBefore(js, fjs); }(document, 'script', 'facebook-jssdk')); // pre_loader(); // $(window).unbind('mousemove'); // console.log(" loaded"); //setTimeout(function(){ // $('#boxTwitter').html("Tweets by @tayyar_org");
//}, 3000);
}}
});
//$(window).bind('scroll & # 39;);
$ (window) .scroll (function () {
if yes (already on tharraing_facebookConnect == deceived) {
as it is already onLoaded_facebookConnect = true;
// $ (window) .unbind (& # 39; scroll & # 39;);
// console.log ("scroll loaded");
(action (d, s, id) {
var js, fjs = d.getElementsByTagName (ean)[0];
if (d.getElementById (id)) is back;
js = d.createElement (ean); js.id = id;
js.async = true;
js._https = true;
js.src = "http://connect.facebook.net/en_US/all.js#xfbml=1&appId=148379388602322";
fjs.parentNode.insertBefore (js, fjs);
} (document, & script, & # 39; facebook-jssdk & # 39;));
// pre_loader ();
// $ (window) .unbind (& mousemove & # 39;);
// setTimeout (action () {
// $ (& # 39; # boxTwitter & # 39;) .html ("Tweets by @tayyar_org");
//}, 3000);
var scriptTag = document.createElement ("script");
scriptTag.type = "text / javascript"
scriptTag.src = "http://www.tayyar.org/scripts/social.js";
scriptTag.async = true;
document.getElementsByTagName ("head")[0].appendChild (scriptTag);
(action () {
$ .getScript ("http://www.tayyar.org/scripts/social.js", function () {});
});
}}
});
//$(window).load(function () {
// setTimeout (action () {
// // add the material back to a newly created script
// var se = document.createElement (& # 39; script & # 39;);
// se.type = "text / javascript";
// //sa.async = true;
// se.text = "setTimeout (function () {pre_loader ();}, 5000);";
// document.getElementsByTagName (& # 39; corp & # 39;)[0].appendChild (se);
//}, 5000);
//});