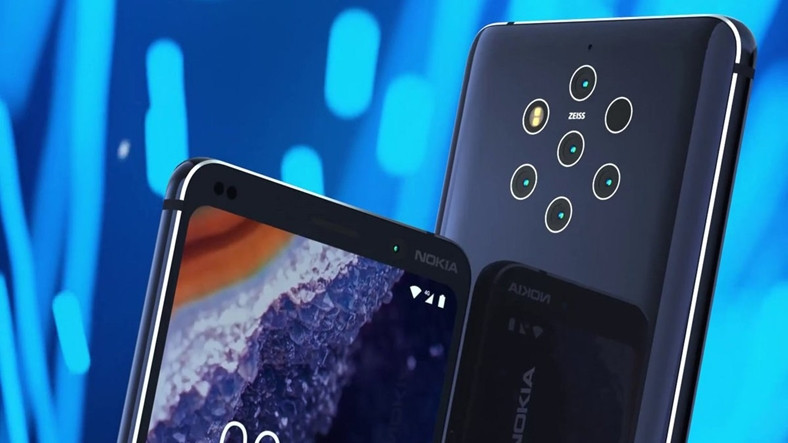 [ad_1]
Nokia's flagship is extremely advanced from the steps taken.
Nokia 9 PureView, which we know almost every feature for months, is last updated at the end of this month. Nokia 9 PureView, which is expected to be introduced in World Mobile 2019 (MWC 2019) Congress between 25-28 February, is a very popular phone.
Less than two weeks before the website, features and images of Nokia 9 PureView are published on the Android Enterprise Recommended website. The display is 6 inch, 18: 9 led by a Qualcomm Snapdragon 845 chipset.
The most popular phone feature of 5 back cameras is the most popular phone call with its stone tree. In addition to 4 GB of RAM, the device allows 128 GB storage capacity for the market, with a view to releasing 6GB GB GB. Nokia 9 PureView is available with 4,000 mAh battery capacity and Android 9 Pie operating system.
Kaynak : https://www.phonearena.com/news/Nokia-9-PureView-key-specs-leak_id113585
$ (Duty () {
// facebook window.fbAsyncInit = action () { fb.init ({ app: & # 39; 1037724072951294 & # 39 ;, xfbml: real, draft: & # 39; v2.5 & # 39; }); };
(action (d, s, id) { var js, fjs = d.getElementsByTagName (an)[0]; if (d.getElementById (id)) {till;} js = d.createElement (ean); js.id = id; js.src = "http://connect.facebook.net/en_US/sdk.js"; fjs.parentNode.insertBefore (js, fjs); } (document, & script, & # 39; facebook-jssdk & # 39;));
$ (& # 39; Body & # 39;). Ten ({ click: action () { // facebook saves ajax button Ma fb.xfbml.p (); }} }, & # 39; .facebook-save & # 39;);
// a share share ma ($ (& # 39 ;. content-sticky & # 39;) fad> 0) { ma ($ (window) .width ()> = 768) { $ (window) .on (& # 39; scroll & # 39 ;, function () { there is scrollTop = $ (here) .scrollTop (); $ (Article & # 39;). each (action () { if (scrollTop> = ($ (this) .find (& # 39 ;. content-body & # 39;) .com comparation (). top - 76)) { $ (Tha) .find (& # 39 ;. Content is stubborn & # 39;). AddClass (sticky & # 39;); (($ (this) .find (& # 39; content-body & # 39;). synchronize (). top + $ (this) .find (& # 39; content-body & # 39;). height () - ($ (this .find (& # 39; content-sticky & # 39;). alto () + 92))) { $ (Tha) .find (& # 39 ;. Content is stubborn & # 39;). RemoveClass (sticky & # 39;); $ (this) .find (& # 39 ;. content-sticky & # 39;). css (& # 39; & # 39; bottom & # 39;: & # 39; 0px & # 39;, & # 39; top & # 39;: & # 39; auto & # 39;}); } other { $ (Tha) .find (& # 39 ;. Content is stubborn & # 39;). AddClass (sticky & # 39;). Css ({ & Bottom: & # 39; start & # 39 ;, & # 39; top & # 39 ;: & # 39; 76px & # 39; }); }} } other { $ (this) .find (& # 39 ;. content-sticky & # 39;). removeClass (& # 39; sticky & # 39;). css (& # 39; & # 39; bottom & # 39;: & # 39; auto & # 39;, & # 39; top & # 39;: & # 39; 0 & # 39;}); }} }); }); }} }}
// click shared $ (& # 39; Body & # 39;). Ten ({ click: action () { var $ this = $ (this), dataShareType = $ this.attr (& # 39; data-share-type & # 39;), dataType = $ this.attr (& # 39; type-data & # 39;), dataId = $ this.attr (& # 39; id-data & # 39;), dataPostUrl = $ this.attr (& # 39; data-post-url & # 39;), dataTitle = $ this.attr (& # 39; data-title & # 39;), dataSef = $ this.attr (& # 39; data-namely & # 39;);
change (dataShareType) { case & facebook & # 39 ;: fb.u de ({ method: & share, & # 39 ;, href: dataSef, }, action (reply) { ma (reply &&! response.error_message) { updatehit (); }} });
break;
case & # 39; twitter & # 39 ;: shareWindow (& https: //twitter.com/intent/tweet? via = webtekno & text = & # 39; + encodeURIComponent (dataTitle) + & # 39;% E2% 96% B6 & # 39; + encodeURIComponent (dataSef )); updatehit (); break;
case & # 39 ;: shareWindow (& # 39; https: //plus.google.com/share? url = & # 39; + encodeURIComponent (dataSef)); updatehit (); break;
case & post window.location.href = & # 39; mailto:? subject = & # 39; + encodeURIComponent (dataTitle) + & # 39; & body = & # 39; + encodeURIComponent (dataSef); // updatehit (); break;
case & # whatsapp & # 39 ;: window.location.href = & # 39; whatsapp: // add? text = & # 39; + encodeURIComentent (dataTitle) + & # 39;% E2% 96% B6 & # 39; + encodeURIComponent (dataSef); updatehit (); break; }}
shareWindow action (url) { window.open (url, "_blank", "toolbar = yes, scrollbars = yes, resizable = yes, top = 500, left = 500, width = 400, height = 400"); }}
updateHit update () { $ .Ajax ({ type: "POST", url: dataPostUrl, data: {contentId: dataId, contentTop: dataType, shareType: dataShareType}, success: action (data) {
if ($ (& video-show & # 39;) length> 0) { var $ container = $ (& # 39 ;. video-showcase & # 39;); } else if ($ (art[data-id="' + dataId + '"]& # 39;) .length> 0) { var $ container = $ (& # 39; article[data-id="' + dataId + '"]& # 39;); } if there is ($ (& # 39 ;. wt-share-item[data-id="' + dataId + '"]& # 39;) .length> 0) { var $ container = $ (& # 39 ;. wt-share-item[data-id="' + dataId + '"]& # 39;); } other { $ container = null; }}
// var $ container = dataType == & # 39; video & # 39 ;? $ (& Video-show & # 39;): $ (& # 39; art[data-id="' + dataId + '"]& # 39;);
if yes ($ container! = null && $ container.length> 0) { var $ badged = $ container.find (& # 39 ;. wt-share-badge - & # 39; + dataShareType);
find $ headerCount = $ (& # 39 ;. content-header & # 39;). find (& wt-share-count & # 39;), $ containerCount = $ container.find (& # 39 ;. wt-share-count & # 39;), value = parseInt ($ containerCount.html ()) + 1;
$ container.data (& # 39; share & # 39 ;, value); //$containercount.html(valu A);
if yes ($ headerCount.length> 0) { //$headercount.html(valu A); }}
if ($ badged.length> 0 && (dataShareType == & # 39; facebook & # 39; | dataShareType == & # 39; twitter & # 39;)) { if yes ($ badged.hasClass (& # 39; is-visible & # 39;)) { //$badged.html(dat A); } other { //$badged.addclass('is-visible').html(dat A); }} }} }}
}} }); }} }} }, & # 39; .wt-share-button & # 39;) }); [ad_2]
Source link