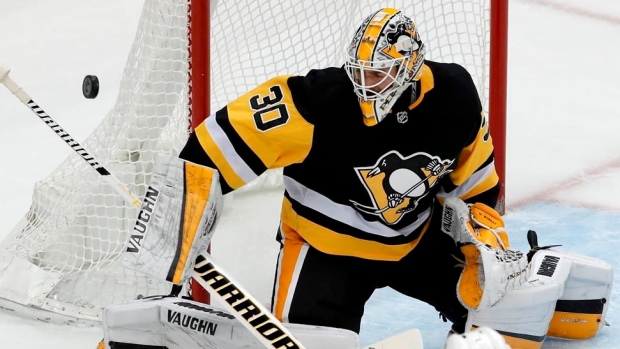 [ad_1]
The Pittsburgh Penguins placed struggling goaltender Matt Murray on injured reserve Thursday, one day after head coach Mike Sullivan said Murray remains the team's No. 1 option.
Sullivan said Thursday the Penguins had not expected to place Murray on the IR, but team doctors decided rest was the best course of action for the goaltender.
"Matt is going to be longer-term with a lower-body injury." He was evaluated this morning by our team doctors, "Sullivan said. "This is something that he's been dealing with for a couple of weeks. The decision was made this morning to rest and see if that gives him an opportunity to heal."
The team announced Tristan Jarry has been recalled on an emergency basis from the American Hockey League.
Murray has not played since Nov. 17, while Casey DeSmith has started six of the team's past seven games. DeSmith turned aside 18 of the 19 shots he faced against the Dallas Stars Wednesday night – his third straight start and first win since Nov. 10.
DeSmith has 13 starts to Murray's 11 this season and has a .924 save percentage compared to Murray's .877 mark, but Sullivan said Wednesday he expected Murray to get plenty of starts moving forward, pointing to two sets of back-to-back games over the next week.
"Right now, we've got two goalies," Sullivan said, through the Pittsburgh Tribune-Review. "The reality is you need two goalies in this league to win. In the big picture, is Matt our No. 1 guy? Of course he is. He's a real good goalie and we believe in him and he's an accomplished guy. We know he's capable of great things.
"We've got a stretch of games here where we're playing an awful lot of games and both guys are going to see time. It's going to be important that we get Matt back on track, and that's our intent. Certainly he's a very important player for us. "
Murray, 4-5-1 this season, posted a 27-16-3 record last season with a 2.92 goals-against average a .907 percentage. He posted a .923 save percentage and a 32-10-4 record during the 2016-17 season, but has struggled to reach that same level since.
DeSmith allowed five goals on 40 shots as the Penguins blew and 4-1 lead in their overtime loss against the Buffalo Sabers on Monday night. He said he was excited to get a shot at redemption on Wednesday night.
"That was awesome," DeSmith said. "I was not unhappy with my game the other day. To get another shot at it and to be able to capitalize and get the win tonight like we did, that feels really good for me personally. "
The Penguins visit the Boston Bruins on Friday night before returning to the ice at home on Saturday against the Columbus Blue Jackets.
[ad_2]
Source link