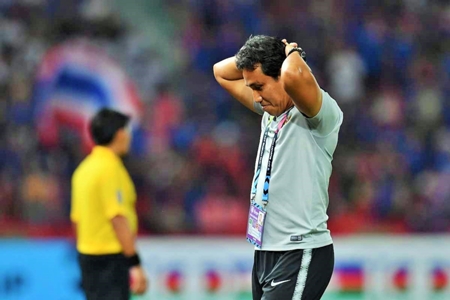 [ad_1]
Thailand and Philippines close in on 2018 AFF Championship semi-final spots, following their matchday three wins in Group B.
---
BY ZULHILMI ZAINAL Follow on Twitter
---
The leaders in Group B of the 2018 AFF Championship are starting to distance themselves from the rest of the pack, after matchday three took place on Saturday.
At the KLFA Football Stadium, Malaysia, Sven-Göran Eriksson's Philippines maintained their 100 percent record, when they fell down Timor-Leste 3-2.
Phil Younghusband's 27th minute and Martin Steuble's 33rd minute goals helped the visitors go in front in the first half, before Carli de Murga added their third of the night in the 68th minute. Surprisingly, the 'home team' staged a fight back, sparked by a Nataniel Reis' 73rd minute penalty goal. A smart through pass by Henrique Cruz just two minutes later was then finished by Joao Pedro who deftly rounded goalkeeper Michael Falkesgaard, gave Timor-Leste their second goal, but they ultimately could not find the equaliser.
At the Rajamangala Stadium, Bangkok, defending champions Thailand maintained their domination while condemning Indonesia, with a 4-2 win.
However, it was the visitors who opened the scoring, when Zulfiandi's strike from outside the box sailed into the top corner in the 29th minute. But as if challenged, the hosts equalized just nine minutes later with a wonderful strike of their own; a goal by Korrakot Wiriyaudomsiri which went in directly from his corner kick. Pansa Hemviboon gave them the lead in the first half injury time, before Adisak Kraisorn bagged his seventh goal of this tournament in the 65th minute, and Pokklaw Anan scored their final of the night in the 74th minute. Fachrudin Aryanto's header goal in the final minute gave the Garudas a lifeline, but they could not do more in the remaining time.
The remaining team in the group, Singapore have not been scheduled to play on matchday three.
Keep updated on the 2018 AFF Championship!
Follow Goal Malaysia 's Instagram account to see photos and watch videos from the AFF Championship!
[ad_2]
Source link