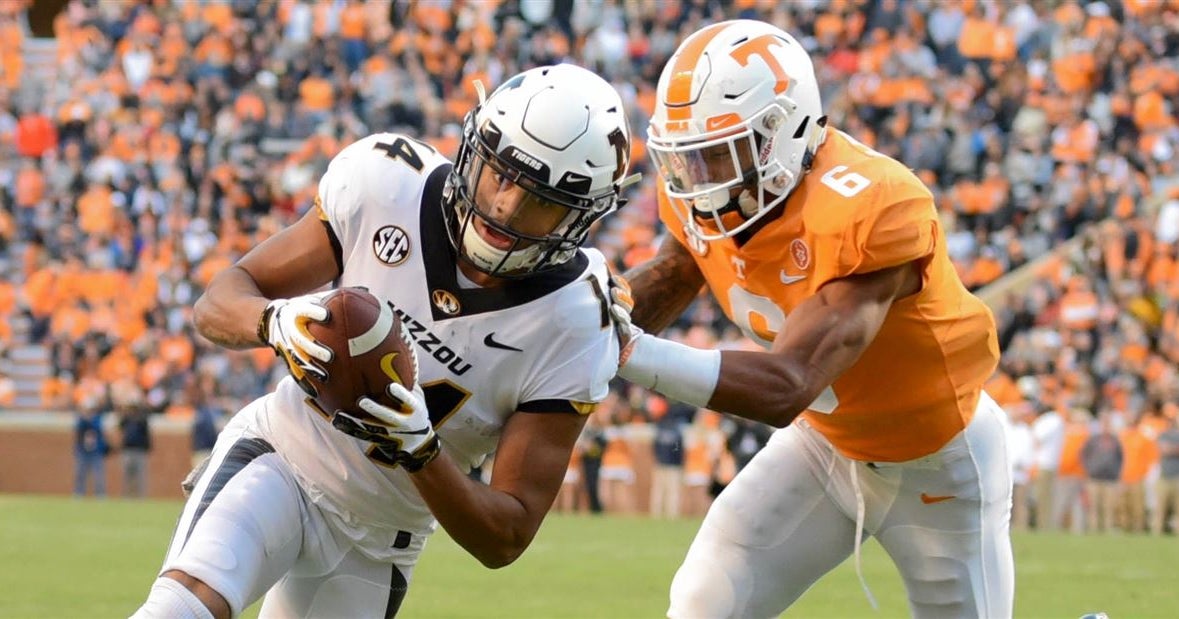 [ad_1]
Tennessee's defense faded after a promising start to Saturday's home finale against Missouri.
After the bright beginning to the game, the Vols simply had no answer for quarterback Drew Lock and the well-balanced Tigers.
Lock and Missouri torched Tennessee for 484 yards, the third-most allowed by Tennessee head coach Jeremy Pruitt's defense this season, and averaged nearly 7 yards per play during the first three quarters of the 50-17 rout of the Vols at Neyland Stadium.
One of the top quarterback prospects for the 2019 NFL Draft, Lock was masterful in reading Tennessee's defense and making the right decisions whether to hand the ball off or throw quick passes against single coverage, and Tennessee could not stop either the run or the pass most of the game.
"The way the games gotten now, everybody's running whatever run play they want to run," Pruitt said. "They're running glance routes or double slants or whatever, out routes – they can run whatever. If you've got more in there than they can block, they throw the ball, and if you do not, they run the ball. Today, the few times that we were even in the box, we did not stop them (running the ball). They handed the ball off and gained 7 or 8 yards.
"You kind of combat that and say, 'Heck, we're just going to play them man-to-man,' and we did not cover them. It's kind of pick your poison. The same thing happened against Alabama. teams that can run the football effectively and have a quarterback that has experience, that can handle disguises, keeps them out of negative plays, which their quarterback done a really good job today doing that. That was the big thing. "
Lock finished 21-of-30 passing for 257 yards and two touchdown passes to Johnathon Johnson, while Larry Rountree III had 135 yards rushing and the Tigers rolled up 227 yards on the ground with a big offensive line controlling the line of scrimmage and the backs constantly falling forward for extra yardage.
Tennessee's defense allowed 10 points the previous two games against Charlotte and Kentucky, and it looked like the Vols might carry the same momentum into Saturday's game based on their start. Two Missouri drives into the red zone ended in field goals. One of two drives that started near midfield ended in a three-and-out and a punt, and a Kyle Phillips sack forced another punt
However, Missouri scored touchdowns on its next four possessions and did not punt again until the fourth quarter.
"Give credit to them," Tennessee linebacker Daniel Bituli said. "They had a really good scheme for us throughout the game, and we've just got to do a better job of adjusting to the schemes they have for us. They were a good team. They came out here and played harder than us. "
Pruitt believed Missouri's tempo gave the Vols trouble throughout the game. He was displeased at the chances Tennessee missed to get off the field on third down. The Tigers were 7-of-14 on third downs.
Lock was 6-of-10 passing for 62 yards with five first downs. The most pivotal conversion came when his short pass to Tyler Badie went for 21 yards after Tennessee defenders Bryce Thompson and Will Ignont missed tackles on the running back. It was 26-17 early in the third quarter and the Vols had the chance to make the play, but did not.
(REMOVE VIP ACCESS TO GOVOLS247 WITH A FREE SEVEN-DAY TRIAL)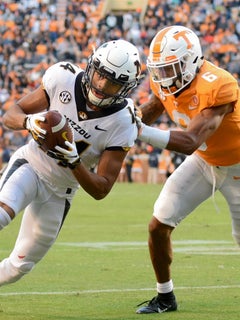 Pruitt lamented those missed opportunities and suggested the performance of his defense against Kentucky last week was not as solid as it seemed.
"Sometimes a score do not actually (indicate) how you play," he said. "When you go back and look at the game, last week we made 50 mental errors on defense. It just did not get exposed. I do not know if we made 50 mental errors today, but I do know we had some that were critical, and you can not do that. We had chances to get off the field, and we did not do it defensively a few times, which I felt like we should have, based off of what we had called and the play that they ran.
"Our offense after the first quarter moved the ball some and put some points on the board, but it's just the turnovers giving them short fields. We've got to be a little more consistent on both sides of the ball. "
Missouri's point total was aided by Tennessee's offense. The Tigers returned an interception 76 yards to set up a 11-yard scoring drive just before halftime, returned a fumble for a touchdown and scored on a 45-yard drive following another interception. Tennessee's defense still suffered one of its worst games of the season in terms of yardage allowed.
Only West Virginia (547) and Alabama (545) put up more yards on the Vols this season.
"I have to give Missouri credit," Pruitt said. "They pretty well beat us in all three phases of the game. They outcoached us, they outplayed us, they outhit us, out-toughed us. "
[ad_2]
Source link