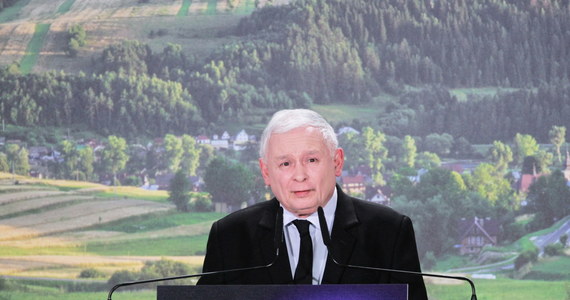 Our aspiration is and we hope that the Polish city and Poland will live on the same level, so that the differences last diminished – party president Jarosław Kaczyński said. on the local use of the PiS in Kadzidło near Ostrołęka.
Jarosław Kaczyński on the PiS regional collection in Kadzidło near Ostrołęka
/Tomasz Waszczuk /A cow
On a midday in Kadzidle (Mazowieckie Province) a law and justice group was held, consisting of small villages and Polish occupation. Prime Minister Mateusz Morawiecki also took part.
"There is enormous potential in Poland, Polish agriculture is especially a unique potential in Europe for smaller and medium sized farms, those that can create a healthy diet – in a natural way that needs to be done. Poland and Europe – "emphasized Kaczyński.
He considered it to be very important and important that it captures this potential with Polish farming. "Law and Justice, the government of Law and Justice, will strive for this, but it must have support, it must also support – it must also support election" – who noticed a president t of PiS.
He noted that the elections to the EP are very important here alone, they are important as a kind of the first round of these elections in 2019 ", which – as he said – a decision about the time. T the coming of Poland "for many years".
According to Kaczyński, European elections are also important, because in the EU "one struggle and struggle – in a decisive and skilled manner – for the Polish interests, including world-class strengths for Poland".
PiS President announced it would be "difficult to struggle" so that our country from most countries would turn this time as part of the Rural Development Program (RDP).
Kaczyński also said that Polish farmers would and would be discriminated against, through the SLD-PSL and PO-PSL consortium decisions, because they are "getting smaller". (middle) the others of the hectare ". "We must change these conversations that have already begun. We must eliminate this discrimination, "he said.
According to Kaczyński, the allocation of EU funds is about "certain injustice". "If you're looking at the general area, 80% fall into large farms, and only 20% fewer and medium" – he told us. "We have to change, we have to have a lot t larger and medium sized farms within these funds are our remit, also our constitutional role, and in particular Article 23 of the Constitution, which clearly states what is to be the agricultural system in Poland. – based on a family farm "- said the PiS president.
Kaczyński said that when he comes to a share of European funds, "it is here that the city will help first." He confirmed that "no grace, this is absolutely necessary." He said if he did not support EU-wide agriculture and the countryside would require food to be much more expensive and, as a result, everything had to be more expensive.
"The state doesn't get anything that you didn't have, you should," said the chair PS, talking to the farmers.
"We, the ruling party and the government, must strive to ensure that what Europe does not provide is what I am repeating, revealing out of grace. T but, of necessity, since he is rationally thinking for the whole economy, to bring our country into the right sizes. So we have a plan of what we are doing in the EU, a plan of our EU goals: the first point in this plan is to boost our share in this century, which is a divided every seven years for agriculture "- said Kaczyński.
As he said, in the past seven years he was 8 per cent. for Polish agriculture from the whole. "I want to tell you that we will fight for more," he said. He added that PiS will also be fighting more with Poland when it comes to the RDP.