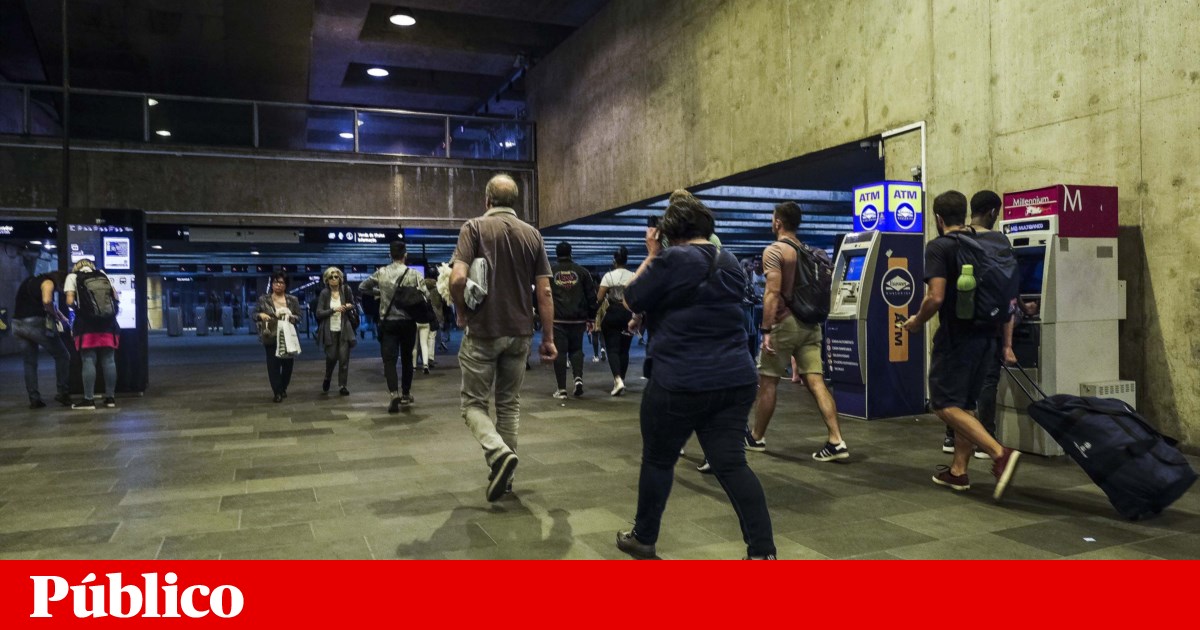 From Cascais to Campo Pequeno the course that Pedro Campos, 50, does every day. It uses three transports: a house bus to Cascais station, a train to Cais do Sodré and a metro to Campo Pequeno. Previously, I used the car, but now I chose public transport. "I got the new license this month. I used to come from private transport. Now I'm going to save a lot of fuel, about 100 Euros a month," Pedro a explained, "great saving" is a step "very good for the environment as well as people".
At the site of the Sodré Application, Transtejo, CP, Carris and Metro de Lisboa, at the start of this morning, the atmosphere is usually on a Monday at a busy time. People come and go, fight to get to work.
Catarina Conceição, 23, will buy the Navegante Metropolitano box on 12 April, when she completed the active consent that will allow her to use the train and the subway. "Before I can only go to the East and the Lisbon metro line and now I can go further," he says. "I paid € 45 a month and I was doing Sintra, Rossio and then Restauradores to Cais do Sodré. Now I am going to be 24 and I lose my student discount, but even so I will save about 10 € because a 50 € break – without the under-23 discount – and now I am '40 €,' said Catriona, the recommendation of this measure 'to help students and staff, especially those who have no private transport'.
"Not many people explain to us"
In Campo Grande the change is more visible. By 8:16 there are about 30 people waiting for the service desk. Those who complain that they are unable to download the new tickets are available through Multibanco and there are still several doubts about the new practices. "I'm going to buy the new license now but we are still a bit confused, at first, there was no one to help me. I have two choices and I'm not sure which one they choose because they are the same price and, on the machine, he doesn't say what they are going to cover, "explains Helena Moura Which, at the moment, you have both the automated devices in Campo Grande with two friends.
"I pay € 27.55 a month and I usually go from the Angels to the city. I think I'm paying 30 euro but I want it to be smaller. If I cover more transport I think it is worthwhile, if I don't think the € 27.55 was good, "Helena Moura adds to his wait for help t According to the student, despite the fact that "this is a very good change" in the future, there are "enough" doubts about the new single licenses: "I am and it appears that there has been little publicity and then there are few people to explain. ".
Save € 100 per month: "I'll put it in the middle"
Susana Martins' daughter is four years old and her son is ten years old and, like today, they don't pay for the case. The Metropolitan Navigator at "Susana" already sent two days back at the ATM. "There are five people at the house in Belas (Sintra). Before that, Susana and her husband paid £ 60 each. They now pay € 40. Every month, I paid £ 50. 185 for each person, but when they activate the family license, they cost € 80, "it states, a reduction of more than € 100 per month. "The money he gives gives" is he putting it in a cannon. "
For others, the discount will be at the end of the month smaller, but other benefits will be associated with moving to a new pass. Now I'm going to the Metropolitan Navigator which covers most of Lisbon and even out of the town. I paid 30 € because I am a student and before I went to 38 € with the Under-23 discount. I can save about € 8, and can do a lot more than I did with my old passport. For example, in summer I can go to the beach. My old passport didn't involve only Cruz Quebrada (Oeiras) and there are no beaches here. Now he is taking everything, "said Rafaela Esteves, 19.
Maria Pires Domingues, 50, will be circulated from Campolide to the Amoreiras and will pay six less euro at the end of the month. Thank you: "It's not bad now, you can get a little coffee."
"Now the vans have come to the pine zone"
For Maria Elias, 65, the saving will be bigger. He bought the new Metropolitan Navigator route last Thursday. "Before I paid € 100 and now I pay € 20, the user comments that it moves daily from Malveira (Mafra County) to Lisbon." T This year it has cost £ 1200 "on public transport and now saving 80 euro." This extra money will be to save, it's to be saved, but Maria Elias is warning. against "one to face": "Now that the vans arrived at the pine mountain" On Monday morning he saw a difference in the "busier" bus. "The lorry would come to Lisbon, sometimes And 20 passengers and today she was three-legged, "he said." The subway comes every five minutes or every six and sometimes ten by ten and if it is too many points it is like canary sardines. "
Some of the possible effects of this are the result of a reduction in tariffs that Maria Miguez, 66, usually travels from the Póoa de Santa Iria to Moscavide through CP. Previously, I paid € 30 per month. "Now with the new way, I pass the 40 € pack, but, because of my age, I have a discount and then I'm 20 €," he says. As well as the reduction of 10 euros, the new license "covers a wider area". But still, it's sensible: "We all like to pay less, I hope that this fee will not be paid again." "It's good and I think, even countries where it is free, but I don't know if we are ready. We won't pay the bill in the future?"
At Marquês de Pombal station, about 9m, many people stayed in line, some were impatient, to be answered at the information desk. Luis, 22, lives in Estrela and works in Belém, and he is waiting for "the way the whole city of Lisbon will build."
Luis had been living abroad for a year and a half and then returned to Portugal. "I had to change and take advantage of the new packages today," he says. In terms of the change in the public transport network, it believes that this must be accompanied by the development of public transport. "He'll have his degree of election, including elections in six months, but I think the step is good," he says. Right now – and because he hadn't used transport in Portugal for a while – Luis does not notice a big difference, but he says: "I definitely notice the subway." and with social networks I have friends living outside Lisbon, saying that public transport is given a lot more in that.
The station at Marquês de Pombal was worth the number of people and the time waiting for the Lisbon Metropolitan attendance service even to make a passenger want the complaint book. Hugo Guerreiro, 36, was one of those who always built on the new route for the Navegante Metropolitano. "I used 70 euro," he says. Electricity of the job comes from Cacém (Sintra) and moves well inside the city of Lisbon.
While he waited for the line to wait, Hugo Guerreiro even asked for the protest book: "The staff are four; the fourth should not sit. T delivering the licenses to replace those standing for free for time to arrive and I arrived at 8:20 am and have been waiting for forty minutes, he says. to the public. "Perhaps my employer should give this time to the Metropolitan that I am here lost in the sense," he said.
For the new social tickets, Hugo Guerreiro believes that "they are coming late because if fuel increases, it needs to increase quality – and frequency – of public transport." This Monday is a good day to assess the situation of the public transport network in Lisbon because it was raining and more people are using their own car today, as it is the beginning of the month. ".
According to the balance sheet this Monday – a new government and operating capital executive – capital capital and president AML, Fernando Medina – had 70,000 ordered the new chart for the nanveganit, the new license. is special for the Lisbon Metropolitan Area (AML).
"Seven million people have today been entitled to it. A further 70,000 titles were sold in March 2019 in March 2018, "said Fernando Medina. It's very important, he explained," it's over 65 years of age.
Source link