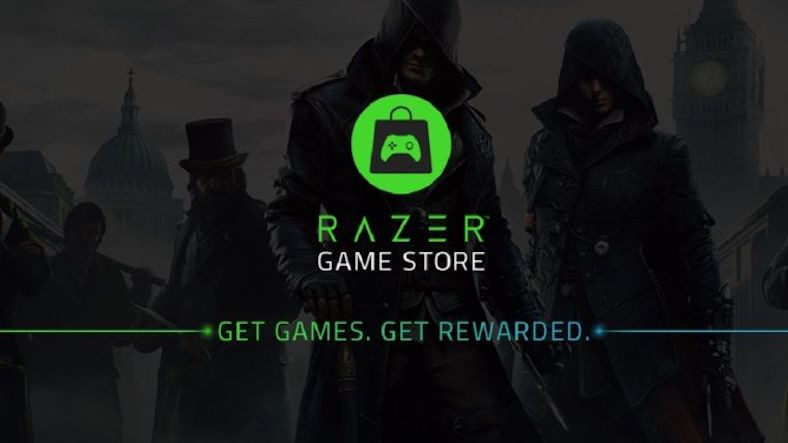 [ad_1]
Store Game Razer, which offers opportunities in a variety of games and Razer, & # 39; closing this month.
The Razer related game maker has decided to close a digital game in April 2018. The store will be closed on 28 February 2019, according to an official statement published on the Razer Game Shop .
"We're sorry for us to offer and offer a great game opportunities. We are very lucky to be part of our large community. Thank you for your support and enable this. Razer, stating that he did not keep her selling and selling her. sold all games that were sold as a Steam or Uplay code.
At the same time, the Razer Gold and Silver Cash Prize programs will be a " follow without any effects that are announced. With Epic Games formally opposing Steam, Razer says that he does not want to " innovative digital market market, which will end at the end of this month.
Kaynak : https://www.pcgamer.com/razer-is-shutting-its-digital-game-store-this-month-less-than-a-year-after-it-opened/
$ (Duty () {
// facebook window.fbAsyncInit = action () { fb.init ({ app: & # 39; 1037724072951294 & # 39 ;, xfbml: real, draft: & # 39; v2.5 & # 39; }); };
(action (d, s, id) { var js, fjs = d.getElementsByTagName (an)[0]; if (d.getElementById (id)) {till; js = d.createElement (ean); js.id = id; js.src = "http://connect.facebook.net/en_US/sdk.js"; fjs.parentNode.insertBefore (js, fjs); } (document, & script, & # 39; facebook-jssdk & # 39;));
$ (& # 39; Body & # 39;). Ten ({ click: action () { // facebook saves ajax button Ma fb.xfbml.p (); }} }, & # 39; .facebook-save & # 39;);
// a share share ma ($ (& # 39 ;. content-sticky & # 39;) fad> 0) { ma ($ (window) .width ()> = 768) { $ (window) .on (& # 39; scroll & # 39 ;, function () { there is scrollTop = $ (here) .scrollTop (); $ (Article & # 39;). each (action () { if (scrollTop> = ($ (this) .find (& # 39 ;. content-body & # 39;) .com comparation (). top - 76)) { $ (Tha) .find (& # 39 ;. Content is stubborn & # 39;). AddClass (sticky & # 39;); (($ (this) .find (& # 39 ;. content-body & # 39;). Combine (). top + $ (this) .find (& # 39 ;. content-body & # 39;). .find (& Content-sticky & # 39;). Height () + 92))) { $ (Tha) .find (& # 39 ;. Content is stubborn & # 39;). RemoveClass (sticky & # 39;); $ (this) .find (& # 39 ;. content-sticky & # 39;). css (& # 39; & # 39; bottom & # 39;: & # 39; 0px & # 39;, & # 39; top & # 39;: & # 39; auto & # 39;}); } other { $ (Tha) .find (& # 39 ;. Content is stubborn & # 39;). AddClass (sticky & # 39;). Css ({ & Bottom: & # 39; start & # 39 ;, & # 39; top & # 39 ;: & # 39; 76px & # 39; }); }} } other { $ (this) .find (& # 39 ;. content-sticky & # 39;). removeClass (& # 39; sticky & # 39;). css (& # 39; & # 39; bottom & # 39;: & # 39; auto & # 39;, & # 39; top & # 39;: & # 39; 0 & # 39;}); }} }); }); }} }}
// click shared $ (& # 39; Body & # 39;). Ten ({ click: action () { var $ this = $ (this), dataShareType = $ this.attr (& # 39; data-share-type & # 39;), dataType = $ this.attr (& # 39; type-data & # 39;), dataId = $ this.attr (& # 39; id-data & # 39;), dataPostUrl = $ this.attr (& # 39; data-post-url & # 39;), dataTitle = $ this.attr (& # 39; data-title & # 39;), dataSef = $ this.attr (& # 39; data-namely & # 39;);
change (dataShareType) { case & facebook & # 39 ;: fb.u de ({ method: & share, & # 39 ;, href: dataSef, }, action (reply) { ma (reply &&! response.error_message) { updatehit (); }} });
break;
case & # 39; twitter & # 39 ;: shareWindow (& https: //twitter.com/intent/tweet? via = webtekno & text = & # 39; + encodeURIComponent (dataTitle) + & # 39;% E2% 96% B6 & # 39; + encodeURIComponent (dataSef )); updatehit (); break;
case & # 39 ;: shareWindow (& # 39; https: //plus.google.com/share? url = & # 39; + encodeURIComponent (dataSef)); updatehit (); break;
case & post window.location.href = & # 39; mailto:? subject = & # 39; + encodeURIComponent (dataTitle) + & # 39; & body = & # 39; + encodeURIComponent (dataSef); // updatehit (); break;
case & # whatsapp & # 39 ;: window.location.href = & # 39; whatsapp: // add? text = & # 39; + encodeURIComentent (dataTitle) + & # 39;% E2% 96% B6 & # 39; + encodeURIComponent (dataSef); updatehit (); break; }}
shareWindow action (url) { window.open (url, "_blank", "toolbar = yes, scrollbars = yes, resizable = yes, top = 500, left = 500, width = 400, height = 400"); }}
updateHit update () { $ .Ajax ({ type: "POST", url: dataPostUrl, data: {contentId: dataId, contentTop: dataType, shareType: dataShareType}, success: action (data) {
if ($ (& video-show & # 39;) length> 0) { var $ container = $ (& # 39 ;. video-showcase & # 39;); } else if ($ (art[data-id="' + dataId + '"]& # 39;) .length> 0) { var $ container = $ (& # 39; article[data-id="' + dataId + '"]& # 39;); } if there is ($ (& # 39 ;. wt-share-item[data-id="' + dataId + '"]& # 39;) .length> 0) { var $ container = $ (& # 39 ;. wt-share-item[data-id="' + dataId + '"]& # 39;); } other { $ container = null; }}
// var $ container = dataType == & # 39; video & # 39 ;? $ (& Video-show & # 39;): $ (& # 39; art[data-id="' + dataId + '"]& # 39;);
if yes ($ container! = null && $ container.length> 0) { var $ badged = $ container.find (& # 39 ;. wt-share-badge - & # 39; + dataShareType);
find $ headerCount = $ (& # 39 ;. content-header & # 39;). find (& wt-share-count & # 39;), $ containerCount = $ container.find (& # 39 ;. wt-share-count & # 39;), value = parseInt ($ containerCount.html ()) + 1;
$ container.data (& # 39; share & # 39 ;, value); //$containercount.html(valu A);
if yes ($ headerCount.length> 0) { //$headercount.html(valu A); }}
if ($ badged.length> 0 && (dataShareType == & # 39; facebook & # 39; | dataShareType == & # 39; twitter & # 39;)) { if yes ($ badged.hasClass (& # 39; is-visible & # 39;)) { //$badged.html(dat A); } {{{} //$badged.addclass('is-visible').html(dat A); }} }} }}
}} }); }} }} }, & # 39; .wt-share-button & # 39;) }); [ad_2]
Source link