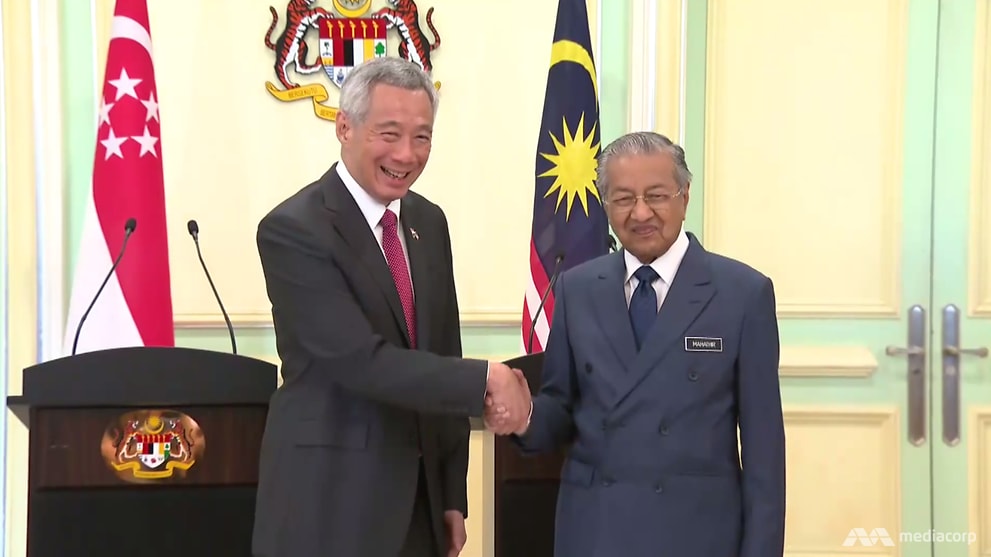 PUTRAJAYA: Singapore and Malaysia prime ministers confirmed the commitment to collaborative and bilateral relations with the birth of Leaders 'Retreat between the two countries, Prime Minister Lee Hsien Loong said on Tuesday (April 9).
Speaking at a press conference with her Malaysian colleague Dr Mahathir Mohamad, Mr Lee noticed how close neighbors in Singapore and Malaysia need to expect rising from time to time. .
"But as long as we address them in an encouraging manner, we can manage the problems and manage our successful outcomes," he said.
READ: Singapore is worried about the river Johor, seeking sustainable water supplies for both countries
He added that the relationship between the two countries is rooted in long history, as well as strong family and business links. "This remains unchanged by Malaysia's new government," he said.
During their retreat, both leaders also addressed current bilateral issues, including maritime borders and aircraft.
REVIEW OF MEDIA REVISION
In terms of maritime boundaries, Mr Lee said both countries had made progress to reduce the marine situation and avoid further events.
An account of how the two foreign ministers agreed to implement the measures, including extending the boundaries of Port Johor Bahru from Tanjung Piai and the borders of Port Singapore away from Tuas, and stopping connecting government ships in the area.
READ: MFA tests # 39's Malaysia's government ships are not; anchored in an area previously covered by port boundaries
"With the implementation of the measures, we will start discussions about a boundary process for a month," he said.
Malaysia had made 25 changes to the boundaries of ports of Johor Bahru in a way that Singapore said they were going into their territorial waters from Tuas.
READ: Singapore, Malaysia marine debate: Timeline
On December 6, Singapore expanded its port limits to Tuas, who said they would not be concerned to take "strong actions" against the attack by Malaysia's government ships in their waters.
Singapore had also been complaining of the "trigger action" by Malaysia in recent months, including a visit to Prime Minister Johor Osman Sapian to Malaysia's parking in the waters of Singapore.
GOVERNANCE "READY TO DISCUSSID" TRAFFIC REGULATIONS
With regard to aircraft matters, Mr Lee noted that Malaysia has permanently stopped its permanent Range over Gudang Pass, and that Singapore withdrew the procedures. An Admission System at Seletar Airport.
With this development, Mr Lee said it has paved the way for the Firefly Malaysia airline to start services to Seletar Airport.
READ: Singapore, Malaysia to develop GPS-based methodology for Airport Seleer to replace ILS
Mr Lee also noted that Malaysia has said it plans to revise existing arrangements for air traffic service provision across Malaysia on the south-east side.
Speaking about this, Mr Lee said: "Singapore is ready to talk about this issue with Malaysia. The key considerations for the safety and effectiveness of air traffic operations, and the needs and interests of both countries. "
He added that this is a "complex issue" which involves consultation with many stakeholders, including airlines and the International Civil Aviation Group (ICAO).
Civil aircraft is growing rapidly for both countries. Kuala Lumpur, the International Airport and Changi, are the main regional airports of each and over 60 million passengers.
LEUGH: Singapore, Malaysia debate: what do we know and a timeline
Singapore provides air traffic services over parts of Malaysia to the south side within the Kuala Lumpur Information Area. This was an agreement with ICAO in 1973.
In December, Malaysia said it wants to return its "inspired airfield" in southern Johor, citing concerns about national sovereignty and interest.
Both key ministers also debated ongoing connectivity projects, including the rapid distance connection system of Johor Bahru-Singapore (RTS) and the High-Speed ​​Kuala Lumpur-Singapore Railway (HSR).
For the RTS Link, Mr Lee noted that Malaysia's Transport Minister, Anthony Loke, has been informed by Transport Minister Khaw Boon Wan, although Malaysia continues to support such a link, he requests that he be contacted. project will run for six months to review options.
He said Singapore understands Malaysia's situation and it is up to the two substitutes to work out quickly consent to implement the ban, as with the HSR stop in a place. 2018.
At the same time as the HSR, Mr Lee said there was still a year to both countries for the Convention.
He said: "Singapore is still seeing this as a good project that will strengthen links between our economies and our people. But we understand why time in Malaysia needs to be reviewed at cost and other options. "
Mr Lee also said that Singapore looks forward to Malaysia's proposals early and works with them to find a way forward for both countries.
PM LOOKING TO THE NDP
Mr Lee also thanked Dr Charles for a "welcoming hospitality" and invited him and his wife Dr Siti Hasmah to visit Singapore on Aug 9 for the National Day Parade. Malaysia's director accepted the invitation.
Mr Lee said that Singapore is celebrating its 200th year this year and that Padang will have a special march.
"In 1969, when we celebrated 150 years of setting today from Singapore, the Malaysian PM PM Tun Razak and a Raha Tin for National Day celebrations," Mr Lee said.
Source link