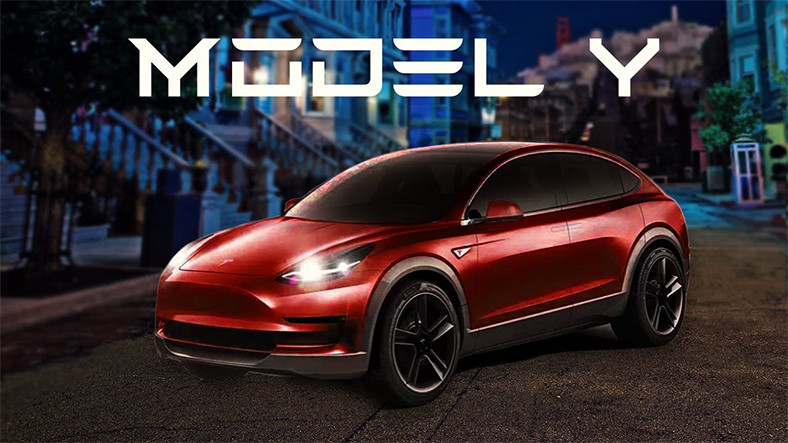 [ad_1]
Tesla CEO Elon Musk certifies that the SUV Model of Electricity Y, which will be introduced in the future, will be successful. And how does Tesla Model need to have a success?
According to Teslarati, Elon Musk explained how Model Y could be achieved by using parts of Model X and how it works; They can distribute the new SUV to the US and China. In the case of a Tesla sale, these two countries, the first two, can help with Model Y a & # 39; affecting market.
(Design concept)
The Toyota RAV4 is currently in the US SUV market first, and is Toyota's Nissan Rogue and Honda CR-V. Thinking about the ideas that I had; Previously, Tesla Model Y did not do the same thing, and Tesla thought that he was out on his / her. market and made great success.
Although Tesla was an excellent electric car company, it was reinforced that Model Y would have a more affordable price than the company's vehicles. Consideration of its & # 39; Most of the success of the Toyota RAV4 is the appropriate price bid, it's clear why Tesla is going on this way.
Finally, we believe that the Gigafactory has found that Tesla in the Neveda state of the USA and China have the confidence needed. The vehicles made in these factories may be able to contribute to the significant impact of Model Y on; market. It is expected that Tesla Model Y will be on March 15, 2019.
Kaynak : https://www.ibtimes.com/why-elon-musks-tesla-model-y-could-dominate-suv-market-2761677
$ (Duty () {
// facebook window.fbAsyncInit = action () { fb.init ({ app: & # 39; 1037724072951294 & # 39 ;, xfbml: real, draft: & # 39; v2.5 & # 39; }); };
(action (d, s, id) { var js, fjs = d.getElementsByTagName (an)[0]; if (d.getElementById (id)) {till;} js = d.createElement (ean); js.id = id; js.src = "http://connect.facebook.net/en_US/sdk.js"; fjs.parentNode.insertBefore (js, fjs); } (document, & script, & # 39; facebook-jssdk & # 39;));
$ (& # 39; Body & # 39;). Ten ({ click: action () { // facebook saves ajax button Ma fb.xfbml.p (); }} }, & # 39; .facebook-save & # 39;);
// a share share ma ($ (& # 39 ;. content-sticky & # 39;) fad> 0) { ma ($ (window) .width ()> = 768) { $ (window) .on (& # 39; scroll & # 39 ;, function () { there is scrollTop = $ (here) .scrollTop (); $ (Article & # 39;). each (action () { if (scrollTop> = ($ (this) .find (& # 39 ;. content-body & # 39;) .com comparation (). top - 76)) { $ (Tha) .find (& # 39 ;. Content is stubborn & # 39;). AddClass (sticky & # 39;); (($ (this) .find (& # 39; content-body & # 39;). synchronize (). top + $ (this) .find (& # 39; content-body & # 39;). height () - ($ (this .find (& # 39; content-sticky & # 39;). alto () + 92))) { $ (Tha) .find (& # 39 ;. Content is stubborn & # 39;). RemoveClass (sticky & # 39;); $ (this) .find (& # 39 ;. content-sticky & # 39;). css (& # 39; & # 39; bottom & # 39;: & # 39; 0px & # 39;, & # 39; top & # 39;: & # 39; auto & # 39;}); } other { $ (Tha) .find (& # 39 ;. Content is stubborn & # 39;). AddClass (sticky & # 39;). Css ({ & Bottom: & # 39; start & # 39 ;, & # 39; top & # 39 ;: & # 39; 76px & # 39; }); }} } other { $ (this) .find (& # 39 ;. content-sticky & # 39;). removeClass (& # 39; sticky & # 39;). css (& # 39; & # 39; bottom & # 39;: & # 39; auto & # 39;, & # 39; top & # 39;: & # 39; 0 & # 39;}); }} }); }); }} }}
// click shared $ (& # 39; Body & # 39;). Ten ({ click: action () { var $ this = $ (this), dataShareType = $ this.attr (& # 39; data-share-type & # 39;), dataType = $ this.attr (& # 39; type-data & # 39;), dataId = $ this.attr (& # 39; id-data & # 39;), dataPostUrl = $ this.attr (& # 39; data-post-url & # 39;), dataTitle = $ this.attr (& # 39; data-title & # 39;), dataSef = $ this.attr (& # 39; data-namely & # 39;);
change (dataShareType) { case & facebook & # 39 ;: fb.u de ({ method: & share, & # 39 ;, href: dataSef, }, action (reply) { ma (reply &&! response.error_message) { updatehit (); }} });
break;
case & # 39; twitter & # 39 ;: shareWindow (& https: //twitter.com/intent/tweet? via = webtekno & text = & # 39; + encodeURIComponent (dataTitle) + & # 39;% E2% 96% B6 & # 39; + encodeURIComponent (dataSef )); updatehit (); break;
case & # 39 ;: shareWindow (& # 39; https: //plus.google.com/share? url = & # 39; + encodeURIComponent (dataSef)); updatehit (); break;
case & post window.location.href = & # 39; mailto:? subject = & # 39; + encodeURIComponent (dataTitle) + & # 39; & body = & # 39; + encodeURIComponent (dataSef); // updatehit (); break;
case & # whatsapp & # 39 ;: window.location.href = & # 39; whatsapp: // add? text = & # 39; + encodeURIComentent (dataTitle) + & # 39;% E2% 96% B6 & # 39; + encodeURIComponent (dataSef); updatehit (); break; }}
shareWindow action (url) { window.open (url, "_blank", "toolbar = yes, scrollbars = yes, resizable = yes, top = 500, left = 500, width = 400, height = 400"); }}
updateHit update () { $ .Ajax ({ type: "POST", url: dataPostUrl, data: {contentId: dataId, contentTop: dataType, shareType: dataShareType}, success: action (data) {
if ($ (& video-show & # 39;) length> 0) { var $ container = $ (& # 39 ;. video-showcase & # 39;); } else if ($ (art[data-id="' + dataId + '"]& # 39;) .length> 0) { var $ container = $ (& # 39; article[data-id="' + dataId + '"]& # 39;); } if there is ($ (& # 39 ;. wt-share-item[data-id="' + dataId + '"]& # 39;) .length> 0) { var $ container = $ (& # 39 ;. wt-share-item[data-id="' + dataId + '"]& # 39;); } other { $ container = null; }}
// var $ container = dataType == & # 39; video & # 39 ;? $ (& Video-show & # 39;): $ (& # 39; art[data-id="' + dataId + '"]& # 39;);
if yes ($ container! = null && $ container.length> 0) { var $ badged = $ container.find (& # 39 ;. wt-share-badge - & # 39; + dataShareType);
find $ headerCount = $ (& # 39 ;. content-header & # 39;). find (& wt-share-count & # 39;), $ containerCount = $ container.find (& # 39 ;. wt-share-count & # 39;), value = parseInt ($ containerCount.html ()) + 1;
$ container.data (& # 39; share & # 39 ;, value); //$containercount.html(valu A);
if yes ($ headerCount.length> 0) { //$headercount.html(valu A); }}
if ($ badged.length> 0 && (dataShareType == & # 39; facebook & # 39; | dataShareType == & # 39; twitter & # 39;)) { if yes ($ badged.hasClass (& # 39; is-visible & # 39;)) { //$badged.html(dat A); } other { //$badged.addclass('is-visible').html(dat A); }} }} }}
}} }); }} }} }, & # 39; .wt-share-button & # 39;) }); [ad_2]
Source link