[ad_1]
The last tour of the Saudi Feast Competition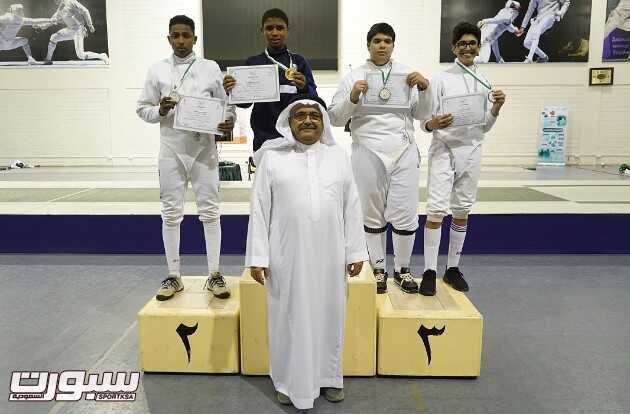 Amer Al-Mubaid, Former President of Saudi Fencing Saudi, won the second Saudi Fellowship Championship, held in the fence hall of Prince Saud Bin Jalawi Sports City in Al-Raka. Zakaria Al-Daoud (Huda) won a & # 39; First place in the Fans Muhanna Al-Hamoud Fence (Al Jazeera), the second, Jawad Al-Daoud (Huda) the third one, and Khalifa Al-Amiri (Al Jazeera) in the third recital place.
Abdulmalek Al Omair (Riyadh Schools) won first, Mohsen Al Shatti (Al Noor), Abdul Aziz Al Abed (Al Noor) and Hassan Al Yousif (Al Noor) third.
Ibrahim Al-Hudaib (Riyadh Schools) won the first place in a 15-year-old, Mahdi Al-Qurous (Al Noor) competition, Mohammed Al-Dakhil (King Faisal Schools) and third Khalid Al-Humaidi ( Riyadh Schools).
Ahmed Al-Faihani (Al-Jazira) won the first place in the & # 39; Under 15 fencing, Ahmed Derby (Al Nahda) second, Mohammed Al-Sadhan (Riyadh schools) and third place Mohammed Al-Zahrani (Okaz).
Abdullah Al-Mansaf (right) won his first place in the 15-year Cyber ​​Army Championship, and Mohammed Al-Amro (Riyadh Schools), Mansour Al-Zahrani (Treas) and Mohsen Al-Mutairi ( National) third place.
Although Al-Bashir (Olympic Fencing Academy) first played in the Cyber ​​Arm (General), Abdulrahman Al-Zahrani (Al Nahda) second, Akil Al-Nama (Al Huda) second and Ali Al Hussein (Al Huda) in the third place.
[ad_2]
Source link