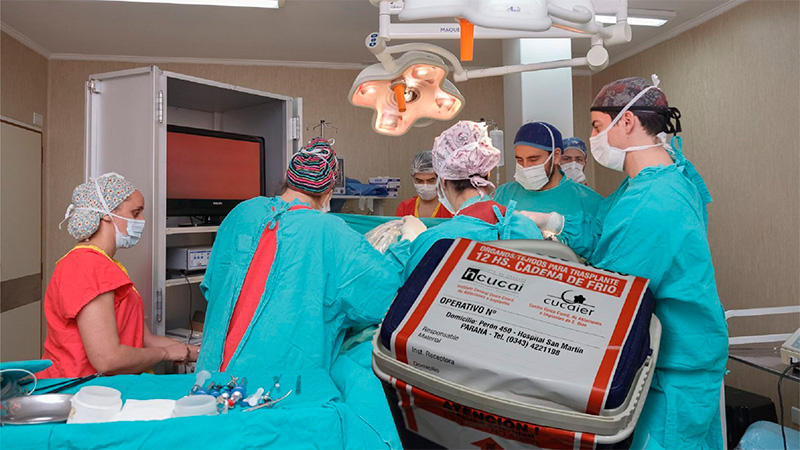 [ad_1]
Three grants were made in the first two days of 2019 at San Martín de Paraná Hospital, two of the only tools; and a third of the organs and weavers. With this expression of close link from the part of the families of the donation, there are eight patients who benefited from the re-planning of the kidneys and threads.
It should be said that corneas that are provided are valued from the end of 2018 in the Sheltered Vine Bank Co-ordinator of the Ablation Center Center and the Imprances of Entre Rios (Cucaier), which are a long time and the logistics to do; needed for people on the waiting list.
There were two families who respected his life by a & # 39; Given the corneas after losing a loved one, to help the people wait for the replacing list of the National Center, Ablation and Implant Co-ordinator (Incucai). At the same time, on Tuesday, January 2, at present time, before the inevitable death of the hospital Dental remedies in an adult patient, a donation of members and insects was maintained.
According to reports, in the three cases reported to the families and with the Cucaier Transplant Coordination Unit in the main town of Entre Ríos, one of the six units with which the Entrerriana Transplant Network is linked to the Ministry of Health, share. These professionals are specially trained to help address the family setting that is in place; take place at the beginning of the duel, and provide the medical and legal information necessary to make this time the best way.
"The knowledge gathered in years of work in a family band makes it clear that winning does not benefit people who are transmitted but also giving families his feelings are dissatisfied by passing days and weeks on helping others who are suffering too ", marked by the Chucaier.
Eventually, they informed the years that Cucaier made the corneas to the Santa Lucía Hospital Bank in Buenos Aires, but since the new room in the department was implemented, the time and work have been best practice for patients. Waiting for barley to re-plan.
var magnificPopup = $.magnificPopup.instance;
(function(d, s, id, twid) {
var js, fjs = d.getElementsByTagName(s)[0];
// fb + common if (!d.getElementById(id)) { js = d.createElement(s); js.id = id; js.src = "http://connect.facebook.net/es_LA/sdk.js#xfbml=1&version=v2.0&appId=696163903740665"; fjs.parentNode.insertBefore(js, fjs); }
// +1 js = d.createElement(s); js.src = 'https://apis.google.com/js/plusone.js'; fjs.parentNode.insertBefore(js, fjs);
// tweet if (!d.getElementById(twid)) { js = d.createElement(s); js.id = twid; js.src = '//platform.twitter.com/widgets.js'; fjs.parentNode.insertBefore(js, fjs); }
}(document, 'script', 'facebook-jssdk','twitter-wjs'));
[ad_2]
Source link