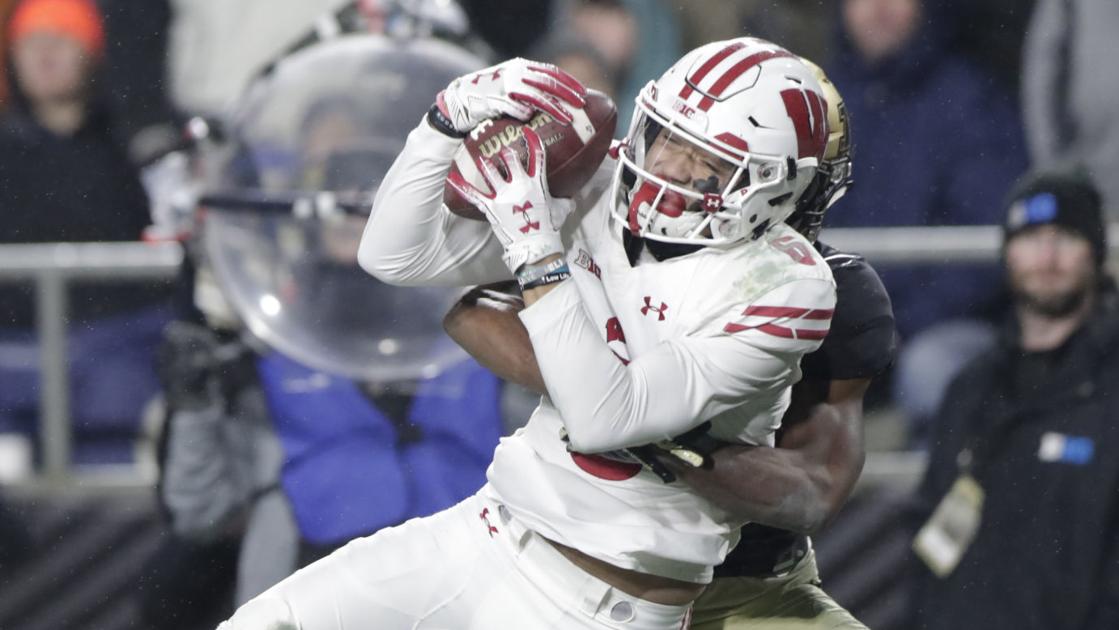 [ad_1]
WEST LAFAYETTE, Ind. – After the University of Wisconsin football team drove smartly down the field on its first possession Saturday at Purdue, reality set in.
Facing a third-and-1 at the 10, the Badgers committed a false-start penalty, completed a third-down pass short of the chains and missed a field goal on consecutive plays.
Anyone who had seen UW struggle to find a rhythm on offense all season and fizzle out in the fourth quarters of three consecutive road losses had to be thinking the same thing: Here we go again.
This time, however, it was different.
Faced with the possibility of seeing their season hit rock bottom and likely being relegated to the Pin Cushion Bowl or something like that, the Badgers finally found what they've been looking for all season. With their offense clicking and their resiliency on full display, they rallied from two touchdowns down to tie Purdue in regulation and emerged from three overtime periods with a spine-tingling 47-44 victory that both set them up for a decent bowl and cleansed their tortured souls.
"It's big anytime you go out and play," coach Paul Chryst said. "I think this one would feel good no matter what had happened previously."
Maybe so, but it was so much sweeter because UW had been dominated during the fourth quarters of road games at Michigan, Northwestern and Penn State. Each time, the offense's disheartening inability to score had turned tight games into double-digit losses.
Saturday, UW trailed 10-3 at halftime and 27-13 early in the fourth quarter before the offense finally started looking like everyone thought it would way back in August. With tailback Jonathan Taylor turning in a 321-yard masterpiece and quarterback Jack Coan growing up right before our eyes, UW's offense dominated the fourth quarter and overtime periods.
It turns out a combination of a balanced offense and unshakable resiliency can carry a team a long way, even if neither one showed up until the second half.
"We've been through a lot of hard times, as an offense especially," fullback Alec Ingold said. "So being able to really step up like that just shows that we had a never-say-die attitude – in this game and in the season. We were not going to let any of the previous drives or previous games hold us down forever . "
This was UW's last chance to prove that. With the Badgers and Boilermakers vying for the same bowl games, UW needed to improve its record to 7-4 and knock Purdue, which fell to 5-6, out of the picture.
It now looks like the Music City Bowl in Nashville or the Gator Bowl in Jacksonville will be in UW's future if it can beat Minnesota at home next week. Those two bowls have an agreement to each take three Big Ten Conference teams and three ACC teams over a six-year period, and the Music City Bowl has the first pick this year.
It's difficult to imagine where UW would have ended up in December had the Badgers not decided that enough was enough when they came out after halftime. UW had 165 yards on 30 plays in the first half, 426 yards on 45 plays after that. In the three overtimes, they needed only seven plays to score three touchdowns.
"It was simply execution," guard Michael Deiter said. "We have guys who can make plays like that all the time, every game, every play, but we just have not. But tonight, when we needed it most, we did. That's really encouraging."
Why did the execution change all of a sudden for an offense that had become proficient only at shooting itself in the foot through 10 games?
"I think we just drew a line," Deiter said. "It was like, 'No more. Execute.' It was as simple as that. Honestly, maybe it took too long sometimes. We should have drawn the line a long time ago. "
It helped that Taylor had the best game of his spectacular two-year career, jump starting the offense with an 80-yard run on the first play of the second half and rushing for 61 of UW's 76 yards in the overtimes. It helped that Coan, making only his third start, finally started making better decisions and hit wide receiver Danny Davis with two touchdown passes in the corner of the end zone in the final 7 minutes of regulation.
For the first time in a long time, UW finally had the balance to make an opponent defend the entire field.
"For us to be successful, we've all got to have that igniter mentality, like we want to be the ones to ignite this," said wide receiver A.J. Taylor, who caught a 34-yard pass on UW's opening drive. "J.T. ignited, I ignited, Kendric (Pryor) also ignited on the block for J.T.'s run and then Danny ignited it in the last minute. We just kept bringing the juice."
More than anything, that's why UW won. The defense was stout against the run and had two impressive goal-line stands, but the young secondary predictably was schooled by Purdue coach Jeff Brohm's well-designed passing offense.
UW's fourth-quarter fight, which had been missing all season, won the day, though.
"Coach always tells we need to put it all out there on the field and I think guys just displayed that phenomenally," Taylor said. "We put it all out there, we played our hardest, we played with grit, we played with heart. I think that's what changed that whole game."
[ad_2]
Source link