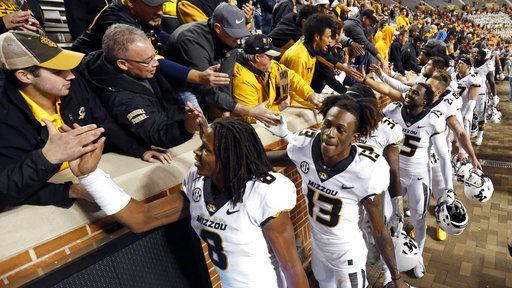 [ad_1]
KNOXVILLE, Tenn. • In the final minutes of Saturday's bloodletting at Tennessee, Missouri quarterback Drew Lock's mind drifted back to January, when the Tigers hired Derek Dooley as his new offensive coordinator, the coach who crashed and burned in three dismal seasons at Tennessee.
Saturday's game was Dooley's first return to Neyland Stadium in six years. As Lock watched the backup offense put the finishing touches on a 50-17 victory, on a day when Dooley's new team piled up 484 yards of offense against his old team, Lock thought about the things he read on Twitter, back when he kept his social media account active
"I was getting tagged in all these tweets from Tennessee people," Lock said, "saying, 'Drew Lock's got Derek Dooley now. Here he goes down the drain. 'Blah, blah, blah. 'There goes Missouri. Hiring Derek Dooley? What are you doing? 'All this talk from these orange and white accounts, all these Volunteers dot orgs and 247-Vols and stuff.
"Now we're here. And that happened today. "
That was another prolific day from Dooley's offense, a unit that seems to lose multiple key pieces per week but continues to race up and down the field and score points. On Saturday, it was tailback Damarea Crockett (ankle) and wideout Jalen Knox (concussion) who were sidelined for all or parts of the game. All-SEC tight end Albert Okwuegbunam was back in Columbia nursing a shoulder injury.
But Dooley's cats never blinked. After a couple of red-zone stalls that led to field goals, the Tigers scored touchdowns on their next four possessions, before adding a fifth straight score on a defensive touchdown. Once again, Dooley's offensive line dominated the line of scrimmage. The Tigers produced another 100-yard rusher (Larry Rountree with 135 yards on a career-high 26 carries), got another efficient day from Lock (21 of 30 for 257 yards and two touchdowns) and receptions by 10 different receivers.
As Dooley made his way down to the field from the press box late in the fourth quarter, Lock could not help but enjoy the moment for his coach, even if Dooley insisted Saturday's game was not about some kind of personal redemption story.
"He wanted to come step foot on that field," Lock said, "after he put a 50-ball up on his old boys."
In the Tigers' celebratory but cramped locker room, Dooley found a spot in the back, far away from the center of attention. No Gatorade baths. No fiery postgame speeches. In fact, it was Dooley who reminded his boss the Tigers have a short week coming up.
"He was excited for our team to win the game," Tigers coach Barry Odom said. "Maybe one day he can sit back and understand what this one (meant) deeper. He's excited for our guys and excited to be here with them in this environment and go play well.
"He was the first one to mention to me, 'You know we need to get back to work.' I was like, 'Yeah, I know. Thanks. I get it. '"
The Volunteers (5-6, 2-5) went into their home finale as perhaps the most improved team in the Southeastern Conference. Missouri (7-4, 3-4) might command that title now with its third straight win. With the victory, the Tigers matched their total from last year with two games to play, Friday's home finale against Arkansas (2-9, 0-7) and whatever bowl game comes calling when invitations are handed out Dec. 2.
Lock overcame two dropped deep balls that would have gone for touchdowns but still managed to direct an offense that converted seven of 14 third downs. Freshman running back Tyler Badie supplied 53 yards rushing and receiving and converted two critical third downs. Freshman wideout Dominic Gicinto caught his first touchdown pass. Freshman wideout Kam Scott turned a short pass into a 44-yard pickup.
"It's like we're putting on a play … but every time we come out there's a new lead actor every single week," Lock said.
Tennessee's first three drives consistently went backward and lost minus-17 yards on nine snaps. That ended the day for starting quarterback Jarrett Guarantano and began the day for Keller Chryst.
With less than a minute left in a back-and-forth first half, Mizzou cornerback DeMarkus Acy sucked the life out of the crowd of 88,224 with an interception and 76-yard return down the sideline. Lock needed three snaps to capitalize on the extra possession with a 4-yard touchdown to Johnathon Johnson, good for a 26-10 halftime lead.
"It just demoralized them almost," defensive end Nate Anderson said. "They were excited, and we took their hopes away."
With Crockett sidelined for the rest of the game, Badie broke three tackles on a flare pass on third and 6 for a 21-yard gain. Then Emanuel Hall got behind the secondary for a 24-yard catch down the sideline. That set up Rountree's 2-yard plunge across the goal line for a 33-17 lead.
Then it was the defense's turn to visit the end zone. Anderson yanked the ball loose from running back Carlin Fils-aime and safety Joshuah Bledsoe was on the spot to scoop it and dash 39 yards for the touchdown.
With their backups in the game, the Tigers added another late score, Simi Bakare's touchdown run, the final touches on another masterpiece against the Vols, a game framed around a coach's return to the school that fired him but became about his cast of playmakers that continues to grow.
As usual, assistant coaches did not talk to reporters after the game. Dooley was requested by several media outlets but slipped out of the locker room and away from the crowd. He let his players do the talking.
[ad_2]
Source link