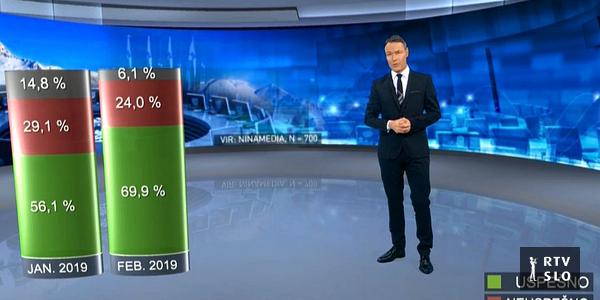 [ad_1]
An Indigenous Group examined TV Slovenia and Dnevnik newspaper between 12 February and 14 February and asked respondents how they would vote on Sunday's national elections. Among the clients, the highest number of votes would be obtained List of Sara Sara Sarac (LMŠ), which is 31.3 per cent of votes, which is more than 13 percentage points greater than last month.
It marks the second place SDS, who voted with 11.6 per cent of respondents. He is the third man SD With 8.9% support, it's a fourth place Levica, which would be thrown by 6.2% of the respondents. The four followers follow NSi (3.9 per cent), DESUS (2.9 per cent), SAB (2.9 per cent), SMC (2.7 per cent), The NHS (2.5 per cent) and SLS (2.5 per cent).
Explained by 2% fewer respondents than in January, almost 20%. There were just over four per cent of respondents attending the elections.
69.9 per cent of respondents believe that the government is successful. Just under a quarter (24 per cent) think they will not work successfully. 6.1 per cent answered what I do not know.
At the top of the politics you enjoy, the prime minister is still Marjan Šarec. The other is the state president Borut Pahor. Here are: TAnja Fajon, Violet Bulc, LJudmila Novak, Dejan Zidan, Zoran Jankovic, Milan Brglez there Igor ŠoltesSouth Westerly
The Vox Populi survey has been carried out by its Non-Media Group for Dnevnik and RTV Slovenia. Between 12 and 14 February 2019, they made telephone voting with the CATI method. 700 people were confirmed.
[ad_2]
Source link