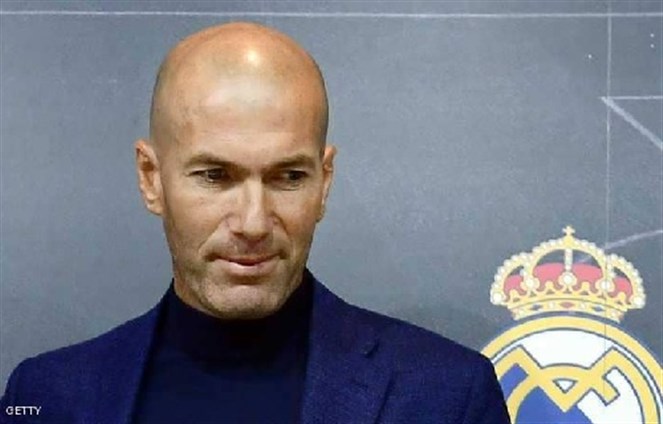 [ad_1]
With the return of the French football star Zinedine Zidane to the Real Madrid training, he is concerned about the very same reasons for returning to the Royal Club.
The first reason for this is to return the special relationship between president Real Madrid Florentino Perez and Bazidan, who can bring him back after the club faces tough times in this quarter.
The well said the two men had admired each other, and they admired the Real team. As a result of this passion, the coach returned Real to three titles in the Champions League, just eight months after he left. T
But the warm relationship with Peres is not the only one returning, and the Gul site that this has now changed to incorporate Zidane into large players. maneuver.
Leaving Zidane for the Royal club was due to a disagreement with the club's president about issuing some players.
The well said that introducing the main activities for the coach was not common in football, but it happened in Zidane's case, leaving it popular with fans of the Royal. T .
Zidane Real left in June because it was unable to make big changes to the squad, and that would be changed in the future as the current coach is famous for its current t providing the technical managers with wide power.
Zidane's situation will have grown significantly because it will be the world's highest paying coach.
Zidane, 46, replaces Santiago Solari in the 2022 Treaty with the challenge of returning the kingdom after the defeat of two home games to Barca, which was released 12 times.
It was followed by a dramatic decline by Santiago Bernabeu to Ajax Amsterdam 1-4 in the second part of the Champions League final after they had 2-1 in the home, losing their title and losing 41 to Girona 1 2.
alreadyLoaded_facebookConnect = false;
$(window).load(function () {
//$(window).bind('mousemove' , function(){ // $(window).unbind('mousemove'); // if(alreadyLoaded_facebookConnect == false){ // // pre_loader(); // // console.log("test"); // } //});
if ($(window).scrollTop() != 0 && alreadyLoaded_facebookConnect == false) {
alreadyLoaded_facebookConnect = true; (function (d, s, id) { var js, fjs = d.getElementsByTagName(s)[0]; if (d.getElementById(id)) return; js = d.createElement(s); js.id = id; js.async = true; js._https = true; js.src = "http://connect.facebook.net/en_US/all.js#xfbml=1&appId=148379388602322"; fjs.parentNode.insertBefore(js, fjs); }(document, 'script', 'facebook-jssdk')); // pre_loader(); // $(window).unbind('mousemove'); // console.log(" loaded"); //setTimeout(function(){ // $('#boxTwitter').html("Tweets by @tayyar_org");
//}, 3000);
}
});
//$(window).bind(&#39=scroll;);
$ (window) .scroll (action)
if so (alreadyLoaded_facebookConnect == false) {
alreadyLoaded_facebookConnect = true;
// $ (window) .unbind ('scroll');
// console.log ("scroll loaded");
(act (d, s, id) {
var js, fjs = d.getElementsByTagName (s)[0];
are returning (d.getElementById (id));
js = d.createElement (s); js.id = id;
js.async = true;
js._https = true;
js.src = "http://connect.facebook.net/en_US/all.js#xfbml=1&appId=148379388602322";
fjs.parentNode.insertBefore (js, fjs);
} (document, 'script', 'facebook-jssdk'));
// pre_loader ();
// $ (window) .unbind ('mousemove');
// setTimeout (activity () {
// $ ('boxTwitter') .html ("Tweets with @tayyar_org");
//}, 3000);
var scriptTag = document.createElement ("script");
scriptTag.type = "text / javascript"
scriptTag.src = "http://www.tayyar.org/scripts/social.js";
scriptTag.async = true;
document.getElementsByTagName ("head")[0].appendChild (scriptTag);
(action)
$ .getScript ("http://www.tayyar.org/scripts/social.js", function () {});
});
}
});
//$(window).load (function)
// setTimeout (activity () {
// // put content back into a new script tag
// var se = document.createElement ('script');
// se.type = "text / javascript";
// //se.async = true;
// se.text = "setTimeout (action () {pre_loader ();}, 5000);";
// document.getElementsByTagName ('body')[0].appendChild (se);
//}, 5000);
//});
[ad_2]
Source link