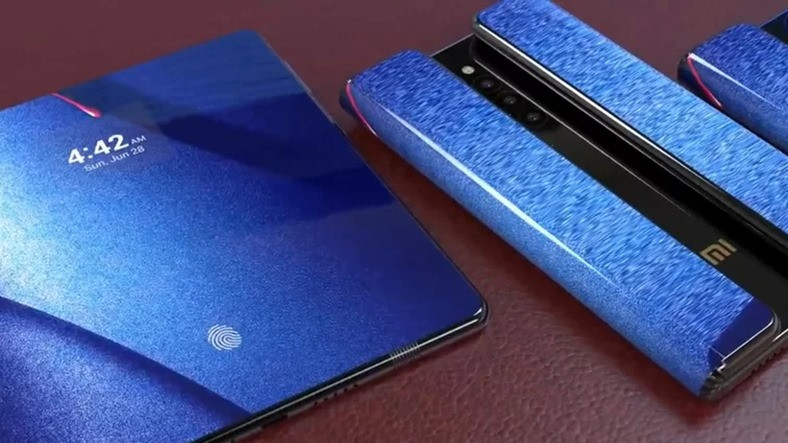 [ad_1]
Xiaomi has another video, a Chinese Chinese phone operator, about her innovative phone use.
The Unpacked was hosted by Korean South Korea business on 20th February 2019 following the introduction of the new S10 Galaxy S10 family brand, submitting the smartphone Galaxy F (Galaxy Fold), users were on wait for many years of features.
Smartphones to be wrapped from other leading smartphones after Samsung; Huawei Mate X was registered as Royole FlexPai and Xiaomi Dual Flex (or Mix Flex). Xiaomi, an official internet video, about how her smart phones use and return, now has a new video sent out of his smart blog.
Being separated from another fracture, Xiaomi's mobile phone system has the opportunity to switch to a telephone switch in tablet mode quickly and easily. Xiaomi Dual Flex is expected to be available from April to June for half-price Samsung F Galaxy; Thanks to the huge -Visionox cross-screen, there is a device that allows the folder to load twice and with a standard MIUI interface.
Kaynak : https://www.gsmarena.com/xiaomi_posts_another_video_of_its_double_folding_phone-news-36248.php
$ (Duty)
// facebook window.fbAsyncInit = activity () { fb.init ({ appId: '1037724072951294 & # 39; xfbml: true, converting: v2.5 & # 39; }); };
(act (d, s, id) { var js, fjs = d.getElementsByTagName (s)[0]; so if (d.getElementById (id)) {return;} js = d.createElement (s); js.id = id; js.src = "http://connect.facebook.net/en_US/sdk.js"; fjs.parentNode.insertBefore (js, fjs); } (document, 'script', 'facebook-jssdk'));
$ ('Body'). Ten ({ click: action () { // facebook save the ajax button Ma fb.xfbml.p (); } }; '.Bookbook-save';
// scroll section so ($ (& ';' content-sticky & nbsp;)>>> { if ($ (window) .width) (>)> 768) { $ (window) .on (scroll), activity () { scrollTop = $ (this) .scrollTop (); $ ('Article') each (action () { if so (scrollTop> = ($ (this) .find ('. content-body'). $ (Yes) .find (.'s content is sticky); AddClass ('Sticky'); (($ (this) .find ('. content-body'.) make-up.) top + $ (this) .find ('. content-body'). ) - ($ (this .find ('. content-sticky'). height () + 92)) { $ (Yes) .find (.'s content is sticky); RemoveClass ('Sticky'); $ (this). find ('. content-sticky'). 'css' '' '' level '', '' s top, 'auto'; } other { $ (Yes) .find (.'s content is sticky); AddClass ('Sticky'). Css ({ 'Base': t 'Top': '76px'; }); } } other { $ (this) .find ('. content-sticky'). removeClass ('Sticky'). css' '' '' '' auto ',' top ''; } }); }); } }
// share click $ ('Body'). Ten ({ click: action () { var $ this = $ (this), dataShareType = $ this.attr (& nbsp; '), dataType = $ this.attr (data type & 39), dataId = $ this.attr ('data-id'), dataPostUrl = $ this.attr ('data-mail-url'), dataTitle = $ this.attr (data title & '39'), dataSef = $ this.attr ('data-');
exchange (dataShareType) { "facebook" issue: fb.u de ({ method: 'shared', href: dataSef, }, action (response) { if yes (answer & math answer.) updatehit (); } });
breaking;
'twitter & # 39'; shareWindow (https: //twitter.com/intent/tweet/ via = webtekno & text = + encodeURIComponent (dataTitle) +% 39%%% B6 + encodeURIComponent (dataSef) )); updatehit (); breaking;
gplus & # 39; shareWindow (https: //plus.google.com/share = encodeURIComponent (dataSef)); updatehit (); breaking;
mail & mail: window.location.href =? mailto:? subject = & # 39; + encodeURIComponent (dataTitle) & body = & # 39; + encodeURIComponent (dataSef); // updatehit (); breaking;
'whatsapp' case: window.location.href = whatsapp: // send? text = & # 39; + encodeURIComponent (dataTitle) + # 39;% E2% 96% B6 & # 39; + encodeURIComponent (dataSef); updatehit (); breaking; }
share sharewindow {url} { window.open (url, "_blank", "toolbar = yes, scrollbars = yes, resizable = yes, top = 500, left = 500, width = 400, height = 400"); }
update Updates () { $ .Ajax ({ Type: "POST" url: dataPostUrl, Data: {contentId: dataId, contentType: dataType, shareType: dataShareType}, t success: activity (data) {
if ($? 'video-display') length> 0) { var $ container = $ ('video-display'); Otherwise if the article is included[data-id="' + dataId + '"]&> 39;) .gte> 0) { var $ container = alt (& # 39;[data-id="' + dataId + '"]'; So if anyone else is ($ (& 39 ;. wt-share-item))[data-id="' + dataId + '"]&> 39;) .gte> 0) { var $ container = $ ('wt-share-item[data-id="' + dataId + '"]'; } other { $ container = null; }
// var $ container = dataType ==? $ ('Video-show'): $ ('section')[data-id="' + dataId + '"]';
($ container! = null & & $ container.length> 0) { $ badged = $ container.find ('wt-share-badge' + dataShareType);
looking for $ headerCount = $ ('. content-header')., looking ('wt-share-count'), $ containerCount = $ container.find ('wt-share-count'), value = parseInt ($ containerCount.html ()) + 1;
$ container.data ('share', value); //$containercount.html(valu A);
if ($ headerCount.length> 0) { //$headercount.html(valu A); }
If ($ badged.length> 0 && (dataShareType == facebook dataShareType == 'twitter')) { if ($ badged.hasClass) ( //$badged.html(dat A); } other { //$badged.addclass('is-visible').html(dat A); } } }
} }); } } }, '.Tut-share-button') }); [ad_2]
Source link