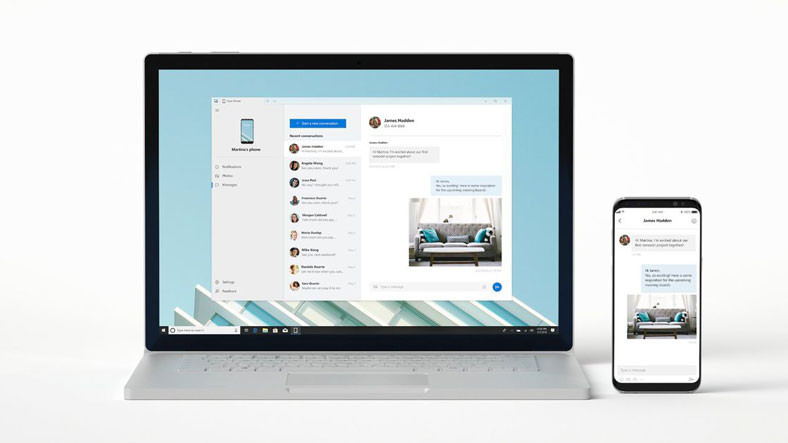 [ad_1]
Microsoft Your Phone came in last October, where you can connect your phone and your computer. According to some reports, there is little time left for the application to meet the users using the Android scanner feature.
In a New York event last October, Microsoft called an application called Your Phone. Thanks to the demand for technology, the screens on Android phones can be reviewed on computers. According to the latest news, the feature is ready to be published. It is expected that Microsoft will recently make this feature for users of Lewis.
Your computer must support a multi-faceted approach to BTLE to use this feature. Also, your phone must be one of Samsung Galaxy S8 or Galaxy S9 with Androd 7.0 and your operating system higher. A variety of instruments will be added in the future.
Your phone program allows you to send and receive messages from your Android phone. The complete screen layout, along with the new feature, can be predicted on the computer. It is almost certain that this feature adds to Your Phone's enjoyment.
Kaynak : https://www.neowin.net/news/microsoft-will-soon-test-android-mirroring-on-windows-10
$ (Duty)
// facebook window.fbAsyncInit = activity () { fb.init ({ appId: '1037724072951294 & # 39; xfbml: true, converting: v2.5 & # 39; }); };
(act (d, s, id) { var js, fjs = d.getElementsByTagName (s)[0]; so if (d.getElementById (id)) {return;} js = d.createElement (s); js.id = id; js.src = "http://connect.facebook.net/en_US/sdk.js"; fjs.parentNode.insertBefore (js, fjs); } (document, 'script', 'facebook-jssdk'));
$ ('Body'). Ten ({ click: action () { // facebook save the ajax button Ma fb.xfbml.p (); } }; '.Bookbook-save';
// scroll section so ($ (& ';' content-sticky & nbsp;)>>> { if ($ (window) .width) (>)> 768) { $ (window) .on (scroll), activity () { scrollTop = $ (this) .scrollTop (); $ ('Article') each (action () { if so (scrollTop> = ($ (this) .find ('. content-body'). $ (Yes) .find (.'s content is sticky); AddClass ('Sticky'); (($ (this) .find ('. content-body'.) make-up.) top + $ (this) .find ('. content-body'). ) - ($ (this .find ('. content-sticky'). height () + 92)) { $ (Yes) .find (.'s content is sticky); RemoveClass ('Sticky'); $ (this). find ('. content-sticky'). 'css' '' '' level '', '' s top, 'auto'; } other { $ (Yes) .find (.'s content is sticky); AddClass ('Sticky'). Css ({ 'Base': 'Start &'; 'Top': '76px'; }); } } other { $ (this) .find ('. content-sticky'). removeClass ('Sticky'). css' '' '' '' auto ',' top ''; } }); }); } }
// share click $ ('Body'). Ten ({ click: action () { var $ this = $ (this), dataShareType = $ this.attr (& nbsp; '), dataType = $ this.attr (data type & 39), dataId = $ this.attr ('data-id'), dataPostUrl = $ this.attr ('data-mail-url'), dataTitle = $ this.attr (data title & '39'), dataSef = $ this.attr ('data-');
exchange (dataShareType) { "facebook" issue: fb.u de ({ method: 'shared', href: dataSef, }, action (response) { if yes (answer & math answer.) updatehit (); } });
breaking;
'twitter & # 39'; shareWindow (https: //twitter.com/intent/tweet. )); updatehit (); breaking;
gplus & # 39; shareWindow (https: //plus.google.com/share = encodeURIComponent (dataSef)); updatehit (); breaking;
mail & mail: window.location.href =? mailto:? subject = & # 39; + encodeURIComponent (dataTitle) & body = & # 39; + encodeURIComponent (dataSef); // updatehit (); breaking;
'whatsapp' case: window.location.href = whatsapp: // send? text = & # 39; + encodeURIComponent (dataTitle) + # 39;% E2% 96% B6 & # 39; + encodeURIComponent (dataSef); updatehit (); breaking; }
share sharewindow {url} { window.open (url, "_blank", "toolbar = yes, scrollbars = yes, resizable = yes, top = 500, left = 500, width = 400, height = 400"); }
update Updates () { $ .Ajax ({ Type: "POST" url: dataPostUrl, Data: {contentId: dataId, contentType: dataType, shareType: dataShareType}, t success: activity (data) {
if ($? 'video-display') length> 0) { var $ container = $ ('video-display'); Otherwise if the article is found ($ (an article)[data-id="' + dataId + '"]&> 39;) .gte> 0) { var $ container = alt (& # 39;[data-id="' + dataId + '"]'; So if anyone else is ($ (& 39 ;. wt-share-item))[data-id="' + dataId + '"]&> 39;) .gte> 0) { var $ container = $ ('wt-share-item[data-id="' + dataId + '"]'; } other { $ container = null; }
// var $ container = dataType ==? $ ('Video-show'): $ ('section')[data-id="' + dataId + '"]';
($ container! = null & & $ container.length> 0) { $ badged = $ container.find ('wt-share-badge' + dataShareType);
looking for $ headerCount = $ ('. content-header')., looking ('wt-share-count'), $ containerCount = $ container.find ('wt-share-count'), value = parseInt ($ containerCount.html ()) + 1;
$ container.data ('share', value); //$containercount.html(valu A);
if ($ headerCount.length> 0) { //$headercount.html(valu A); }
If ($ badged.length> 0 && (dataShareType == facebook dataShareType == 'twitter')) { if ($ badged.hasClass) ( //$badged.html(dat A); } other { //$badged.addclass('is-visible').html(dat A); } } }
} }); } } }, '.Tut-share-button') }); [ad_2]
Source link